Violence and Society: Examining the impact of Violence in our Lives
March 29, 2019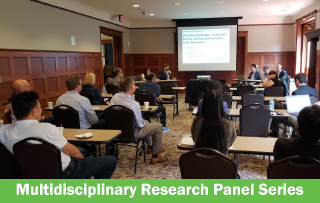 The Office of Research created the CSU Multidisciplinary Research Seminar Series to promote an environment that enables, encourages, and rewards multidisciplinary and collaborative risk taking to solve the broad challenges in our increasingly complex world. This month, Cheryl Bracken (CLASS Dean's Office) will moderate the panel Violence and Society: Examining the impact of Violence in our Lives.
Abstract: This panel features CSU researchers who examine the role and impact of violence in society in our lives.
Panel Moderator: Cheryl Bracken (CLASS Dean's Office)
Panelists: Wendy Regoeczi (CAS), Thomas Humphrey (History), Cyleste Collins (Social Work)
Location: Parker Hannifin Hall 104
Time: March 29, 2019 from 12:00-1:15 pm.