Tumult in the Film Industry: Content Wins
February 22, 2019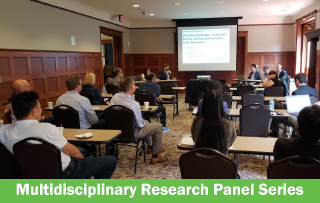 The Office of Research created the CSU Multidisciplinary Research Seminar Series to promote an environment that enables, encourages, and rewards multidisciplinary and collaborative risk taking to solve the broad challenges in our increasingly complex world. This month, Frederic Lahey (Film and Media Arts) will moderate the panel Tumult in the Film Industry: Content Wins.
Abstract: Fear of FAANG (Facebook, Apple, Amazon, Netflix and Google) has led to a film industry consolidation so that former titans have a chance of competing against the giants of digital disruption.  But all of the frenetic activity is really aimed at one goal, having the cash on hand to attract and produce the most compelling stories in the bid for global eyeballs. A well-crafted story is the new gold standard.
Panel Moderator: Frederic Lahey (Film)
Panelists: Evan Lieberman (Film and Media Arts), Mike Rand (Film and Media Arts), Cigdem Slankard (Film and Media Arts)
Location: Parker Hannifin Hall 104
Time: February 22, 2019 from 12:00-1:15 pm.