Building Multidisciplinary Relationships through Social Impact Design
February 8, 2019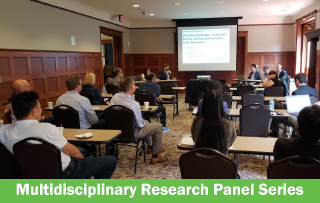 The Office of Research created the CSU Multidisciplinary Research Seminar Series to promote an environment that enables, encourages, and rewards multidisciplinary and collaborative risk taking to solve the broad challenges in our increasingly complex world. This month, Anne Berry (Art and Design) will moderate the panel Building Multidisciplinary Relationships through Social Impact Design.
Abstract: Over the course of the past two decades, technological advancements have transformed design from a predominantly print-based medium into an increasingly varied and interdisciplinary field; within the last several years alone, the creative industry has shifted from artifact-based models to research/strategy approaches. This panel, consequently, will focus on collaborations between various fields of academic study and research to address complex problems from a social impact design perspective.
Panel Moderator: Anne Berry (Art and Design)
Panelists: Shereen Naser (Psychology), Cigdem Slankard (Film and Media Arts)
Location: Parker Hannifin Hall 104
Time: February 8, 2019 from 12:00-1:15 pm.