Posted on April 4, 2023 at 10:31 AM, updated April 17, 2023 at 9:37 AM Print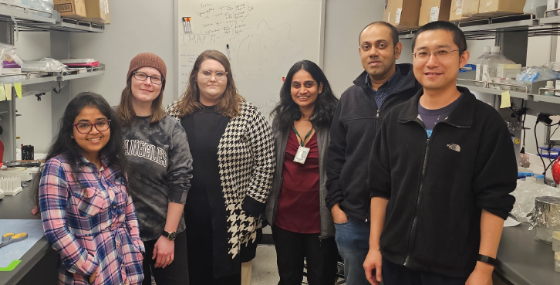 Red blood cells comprise 80% of cells in the body, and hemoglobin, the oxygen carrying component, constitutes 95% of the protein content in these cells. When red blood cells and hemoglobin don't function properly, an individual's health can suffer greatly.
Merlin Nithya Gnanapragasam, Ph.D., an assistant professor in the Department of Biological, Geological and Environmental Sciences (BGES) and member of the Center for Gene Regulation in Health and Disease (GRHD), has focused her research on understanding the mechanisms of mammalian erythropoiesis (red blood cell production) in development and disease.
The research program has been funded by the NIH's National Institute of Diabetes and Digestive and Kidney Diseases (NIDDK) through a K01 career development award and U2C Kidney Urology and Hematology Research pre-doctoral trainee fellowship, by the Cooley's Anemia Foundation research fellowship, and by internal funding from CSU and GRHD.
Dr. Gnanapragasam has just been awarded a new NIDDK/NIH R01 grant providing $2,063,848 in funding over five years to advance her lab's research. This funding will support our investigations on hemoglobin switching and erythroid differentiation.
Hemoglobin switching is a fascinating developmental process that encompasses a switch in fetal hemoglobin (which is produced during gestation) to adult hemoglobin (produced after birth). Fetal hemoglobin binds to oxygen more tightly than adult hemoglobin. Individuals with sickle cell anemia and beta-thalassemia have mutated versions of adult hemoglobin that have reduced oxygen carrying capacity, so prompting the body to produce fetal hemoglobin after birth can ameliorate the effect of those diseases.
Dr. Gnanapragasam's current investigations are focused on uncovering the role of Pumilio1, a gene that her lab has identified, in hemoglobin switching and red blood cell development. The long-term goal is to use the lab's findings to develop therapeutic strategies to treat sickle cell anemia and beta-thalassemia.
In addition to receiving the new NIH funding, Dr. Gnanapragasam has been invited to showcase her lab's research work at the prestigious Gordon Research Conference for Red cells, in New Port, RI, in June 2023. Her lab is actively collaborating with Dr. Jane Little's lab at University of North Carolina at Chapel Hill, Dr. Umut Gurkan's lab at Case Western Reserve University, and with Dr. Peng Jiang's lab at CSU.
The research will be furthered with expertise from other investigators at BGES department and GRHD center at CSU; the Center for RNA Science and Therapeutics and Advanced RNA profiling core facility at Case Western Reserve University; University of Columbia Medical Center; New York Genome Center; Cleveland Clinic Lerner College of Medicine; Saint Louis University, and University of Rochester Medical Center.
Dr. Gnanapragasam was also named to Yale's "CCEH Rising Stars in Hematology Series." She addressed "Mechanisms of mammalian erythropoiesis during development and disease" during a Zoom lecture on Friday, May 20, 2022.
Pictured left to right: Ph.D. students Anita Dhara, Sarah Adams, and Rachael White, Dr. Merlin Nithya Gnanapragasam, and collaborators Dr. Mahesh Ramamoorthy and Dr. Peng Jiang