Posted on November 15, 2023 at 4:28 PM, updated November 15, 2023 at 4:51 PM Print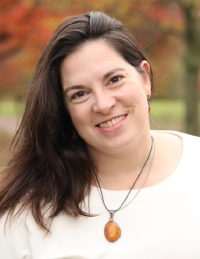 Dr. Aviva Vincent, LMSW, VSW (Veterinary Social Worker), is an assistant professor in the School of Social Work. Her current research projects include Exploring music therapy within adaptive riding (PI), Surveying embedded Veterinary Social Workers about their experiences providing mental health in Veterinary Medicine settings (PI), and Exploring perceptions and experience of DEI within Equine Assisted Service providers (CO-I). She has twenty peer-reviewed publications and chapters in Career Paths in Human-Animal Interaction for Social and Behavioral Scientists, The Comprehensive Guide to Interdisciplinary Veterinary Social Work, The Handbook on Human Animal Interactions and Anthrozoology, and Integrating Horses Into Healing.
In the community, Dr. Vincent also works as a Certified Therapeutic Riding Instructor at Fieldstone Farm Therapeutic Riding Center and is co-owner/founder of Healing Paws LLC. As a social justice advocate, she centers diversity, equity, and inclusion (DEI) in her practice and within her teaching pedagogy, and holds facilitator training through the Harwood Institute, Sustained Dialogue, and the Institute for Social Change. She is on the board of trustees for PATH International, wherein she chairs the Diversity Equity and Inclusion Committee, and she chairs the conference committee for the International Association of Veterinary Social work.
Dr. Vincent was awarded Cleveland Crain's 40 under 40 recognition in 2023 and the Early Career Success Award by Case Western Reserve University in 2022. Learn more about Aviva and her work here.