College of Graduate Studies Awards Opportunities: 
Three Minute Thesis Awards Program, 2023/24
Originally developed by the University of Queensland, the Three Minute Thesis is an awards competition that enhances skills of communication and presentation. Presenting an oral communication of master's or doctoral research in three minutes or less to a non-specialist audience can be challenging to students and professionals alike, but is an important skill to develop for conferences and the job market.
Learn how to effectively summarize your research and make a perfect pitch that is designed for all audiences. Students have just three minutes and the aid of one Powerpoint slide to communicate their research effectively to an intelligent, but non-specialist audience. 
The 3MT awards competition, hosted by the College of Graduate Studies, has registration open to present until December 2 with presentations delivered and judged in February. Monetary prizes will be awarded, $500 (first place) and $250 (runner-up). The first place winner will represent CSU in at the 3MT competition sponsored by the Midwestern Association of Graduate Schools in April in St.Louis.
Learn more about CSU's competion by viewing the document on how to participate and judging criteria, as well as reviewing the 3MT webpage.
CSU 3MT Builds Skills! A priceless reward of the 3MT competition is that, in addition to the awards competition, participants will have training and development opportunities to maximize skills in building, improving, practicing, and presenting your pitch, all while gaining valuable feedback from experts and peers. 
Students from a wide variety of academic backgrounds partcipate in the 3MT and are encouraged to present. You can find successful 3MT presentations from across the globe at the 3MT website. 
You can learn more about the 3MT, how to participate, and tips for crafting a successful presentation at our upcoming informational workshop on Monday, December 4 at 12:00 p.m. in 104 Parker Hannifin Hall.
Sign up to attend the workshop.
TOP REASONS TO JOIN 3MT @ CSU
Learn the necessary presentation skills that will serve you throughout your career and profession. 
Build confidence and comfort for future presentations to peers, employers, investors, entrepreneurs.
Enjoy the benefits of free training and feedback from past 3MT award winners, peers, and CSU staff/faculty. 
Gain attention to and an understanding of complex research among a non-specialist audience of judges. 
Post your 3MT to your CV or Resume, or other platforms.
Achieve recognition and eligibility for prizes in the College of Graduate Studies 3MT Awards Program. 
---

Fall Awards Program
Graduate Student 2023/24 Fall Awards Program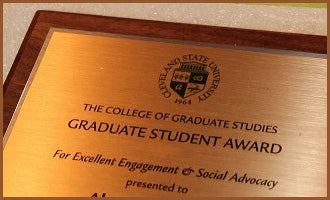 Graduate Student Awards and Nomination Guidelines for 2023/24
During Fall Semester, the College of Graduate Studies invites eligible graduate students to participate in the 2023/2024 Graduate Student Awards Program (Fall Semester) and the 3MT Competition (Spring Semester).  The awards programs recognize graduate student achievement across multiple categories with monetary awards ranging from $250 to $500.  Award categories include:  Creative Scholarship, Research, Teaching, Engagement and Social Advocacy. 
Participant Eligibility
Cumulative GPA of 3.0 or better 
Current CSU graduate students or no more than one year post-graduation
Request a nomination from a member of CSU Graduate Faculty
Participants must follow all Awards Guidelines linked above
NOTE: A fillable PDF of the nomination cover page can be downloaded here.  All nomination materials should be submitted at this website. You will need to log in with your CSU credentials. Please make sure you have read and followed the guidelines prior to submitting.
​​​​​​​​​​