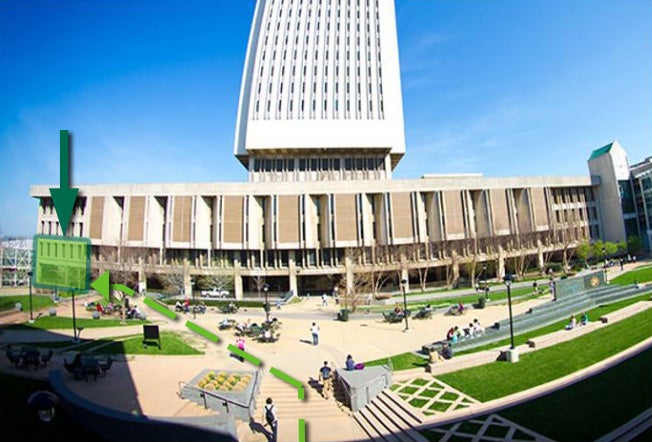 NOW OPEN! Grad Student Resource Center & Lounge 
A Common Space Designed for all Graduate Students
Hours: Monday through Thursday from 12-6PM; additional hours by appointment
Rhodes Tower West, #238 is home to the Graduate Student Resource Center and Student Lounge. Graduate students will find spaces for group work, quiet study rooms, large and small group meeting space, and private spaces for study, group work, video chats, and a board room for large group meetings. The larger spaces are ideal for presentations, collaboration, group work, music, TV and games. Take a break in the lounge or warm a meal in the kitchen, before or between classes, as your schedule allows.
The new Graduate Student Center is a much needed area for graduate students to congregate and feel at home at CSU.  We are working to take a larger role on campus and enhance graduate students' time at CSU.  In my opinion, the Graduate Student Center is one of the final pieces of the puzzle for CSU!"  Rita K., GPSA 2018 GPSA Co-president
GSRC  Growth and Expansion:
In Spring 2018, the Graduate Student Center opened in RW 210 and a new chapter began in the 50-year history of graduate students at Cleveland State University. College Deans recognized the need for a centralized hub for establishing a common space for interdisciplinary conversation, collaboration and to foster graduate student success on campus.  

In Spring 2020, the GSRC grew into a larger suite in RW 238 and added many new amenities. 

When most courses were transitioned to remote learning in April 2020 the opening was delayed to October 2021. 
In Fall 2021, the Graduate Student Center & Lounge doors re-opened as in-person classes returned! See you there!
In Spring 2022, in addition to the main entrance to Rhodes West, students may use a second entrance located in the outer lobby of the Schwartz Library.  Take the staricase to the second floor. See accessibilty message below.
Accessibility Update: 
Elevator access is available at the entrance doors on the CSU plaza level, under the Rhodes West sign. A second entrance has staircase-only access and can be found inside the outer lobby of the Schwartz library (next to the vending machines).