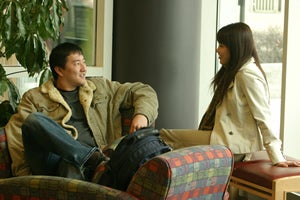 Admission
Cleveland State University makes it easy to be admitted into the Dual Admission Program. Fill out the Dual Admission Program Application to any Tri-C Enrollment Center or mail directly to Cuyahoga Community College, Office of the Registrar, PO Box 5966, Cleveland, OH 44101-0966.
Intent to Enroll
All students must be admitted to Cleveland State and declare their intent to enroll before registering and receiving financial aid and scholarships. Log on to CampusNet using your CSU ID and password (call 216.687.5050 if you need to reset your password). Click on the "Applicant" tab and choose "yes" to accept admission to CSU.
Registration
In your acceptance letter, you will receive your CSU ID number and a temporary CampusNet password in order to log-in to CampusNet for registration.
CampusNet
CampusNet is our on-line student resource system for all of your registration and self-service needs, such as email, personal information, grades, unofficial transcripts, account information and much more. You can register on-line through CampusNet. If you need assistance with your CampusNet password, please call Information Services & Technology at 216.687.5050 (at prompt press "1").
CSU Email
Cleveland State University sends periodic emails to partnership students at their Cleveland State email address regarding partnership events occurring on campus. Please check your email regularly, or forward your Cleveland State email to your personal email address. Both your email and home addresses can be changed using CampusNet.
Tuition Payments
Once registered, you can check your account online and make payments directly to the Office of Treasury Services. The Office of Treasury Services can also provide you with more information on our Tuition and Fee schedules, online payments, and Budget Payment Plan options.
NOTE: A 2.9% service fee will be added to all student accounts using either a credit card or debit card for tuition payment.
Financial Aid
The first step in the financial aid process is completing the Free Application for Federal Student Aid (FAFSA). You must file a FAFSA every year in order to receive your financial aid. You will need to add CSU (school code: 003032) to the list of schools on your FAFSA in order for our financial aid office to receive your records. You can list multiple schools on your FAFSA in any given term; however, you are only able to receive aid from one institution at a time. Partnership students registered at CSU will be awarded financial aid based solely on the credit hour enrollment in Cleveland State University courses.
Advising
Please contact the Tri-C Counseling Center for the next available appointment dates to meet with your Cleveland State University advisor on campus. To set up an appointment with your Cleveland State academic advisor downtown, please contact your respective Advising Office.