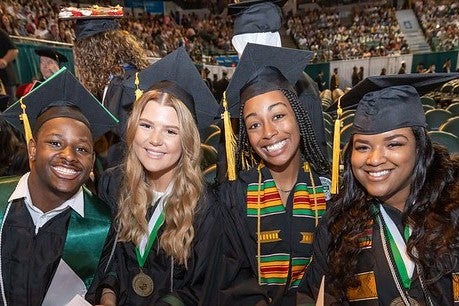 Students who earned a bachelor's degree at Cleveland State or another regionally accredited university or college and want to take undergraduate courses can apply for admission as a post-baccalaureate student. Reasons for taking additional undergraduate courses may include:
To earn a teaching licensure,
To complete a certificate program,
To prepare for graduate or professional school,
To earn a second bachelor's degree, or
For personal interest.
Students interested in earning a second bachelor's degree must:
Have the individual Cleveland State college determine course requirements and college/departmental residency requirements, and
Meet the University residency requirement of 30 semester hours of course work, including a minimum of 24 credits from upper-division courses.
Apply
To apply, students must submit the following:
Official college transcript sent from the regionally accredited university or college that granted the bachelor's degree

Applicants who are unable to obtain an official transcript from a previous university or college because of financial or other obligations may not be considered for post-baccalaureate admission to Cleveland State.

A nonrefundable $40 application fee. *CSU is currently waiving application fees through Fall 2024!
The above application materials should be sent via email to admissions@csuohio.edu or mailed to:
Cleveland State University
Application Processing Center
2121 Euclid Avenue, UN443
Cleveland, OH 44115
Check Status of Your Application
Admission decisions are typically made within 1-2 weeks of receipt of all required materials. You can check your admission status by visiting https://go.csuohio.edu/status. 
Resources
View a list of our post-baccalaureate programs.
Students interested in financial aid should contact All-in-1 at 216.687.5411 to learn if they are eligible.