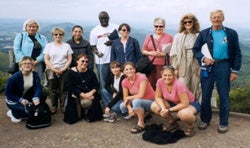 Open Minds Project
Openmindprojects is a local AID development organization that offers volunteers a cross-cultural opportunities in Thailand and with IT Isan projects. They provide volunteer training and orientation along with placement in schools, national parks, and orphanages.
International Voluntary Service
This is a non-proft membership organization that offers placement in over 3000 volunteer projects in more than 100 countries. VFP also organizes 50-60 service projects in the United States each year. They exchange volunteers with international partners, who organize the projects taking place in their own countries.

VFP's basic placement fee is $300 for a multi-week placement. This includes food, accomodation and work matierals. Volunteers arrange and pay for their own transportation. In developing countries, there are additional fees payable upon arrival that vary depending on the hosting organization.
IVPA
The International Volunteer Programs Association (IVPA) is an alliance of nonprofit, non-governmental organizations that are involved in international volunteer and internships programs. IVPA promotes excellence and responsibility in the field of international voluntarism and encourages public understanding of and access to international volunteer programs. This website is a great place to begin research into the variety of volunteer programs available. You can search by field of interest, country, and time availability. It also provides fundraising tips and preparation information.

Go VolunteerAbroad.com
Go VolunteerAbroad.com hosts a number of programs across the world and acts a hub for information about volunteer oppertunities offered world-wide.

Peace Corps
a volunteer organization of the U.S. Department of State which promotes intercultural understanding. The Peace Corps has programs in education, youth and community development, health and HIV/AIDS, agriculture, environment, business development, and information technology. Volunteers must be 18 years old, a U.S. citizen, and in good health. The Peace Corps offers the benefits of learning skills for a global marketplace, advantages in federal employment, and leadership abilities. Volunteers receive a living stipend. Volunteers who apply will be placed wherever there is a need, so they are not able to choose their location.

ProWorld
ProWorld has year round volunteer opportunities in Peru, Belize, and Mexico. Choose from a variety of projects in health such as clinical work and public health education; environmental projects in conservation, sustainable agriculture, and environmental education; or projects in education, journalism, construction, human rights or technology. Collaborative development projects are the focus of all of their programs. Volunteers will develop a broadened world view while learning valuable skills in sustainable development and cross cultural communication.

Global Service Corps
This is a nonprofit international volunteer organization providing opportunities for people to live and work in developing countries. The organization stresses cultural immersion and offers programs in health, environment, and education. Placements are from two weeks to six months. Volunteers will work directly with local people, live with local families, receive training, and take weekend excursions in the host country.

Child Family Health International (CFHI)
CFHI offers international health service-learning programs for people in the health sciences (residents, medical and pre-med, nursing, osteopathic, naturopathic, and other health science students). Volunteers spend time working with local doctors in a variety of healthcare settings. Programs seek to enhance participants' learning by developing a sense of cultural competency, improving clinical skills, broadening knowledge of public health, creative problem solving, and a commitment to service. Participants must be 21 years or over. Many programs do not have a language requirement, others require minimal knowledge of Spanish. Some scholarships are available.

i -to-i
i-to-i provides volunteer opportunities from one to twenty-four weeks. They have over 400 programs in 24 different countries. Trips are available for individuals, couples and groups. i-to-i project fees include accommodations, two to three meals a day (most projects), airport pick up and orientation, travel and health insurance, TEFL training (for select projects), and in-country and emergency support.

Cross Cultural Solutions
This organization is one of the largest volunteer sending organizations in the U.S. They offer programs around the world, from one week to six months. Volunteers work side by side with local people in health care, education, and community development projects. Volunteers face global issues first hand and learn to build bridges of understanding across cultures.

Operation Crossroads Africa
Operation Crossroads Africa promotes cross-cultural sharing and understanding within the context of Africa and countries of the African diaspora. Crossroads is involved in more than 20 countries and offers a variety of programs. Participants must be at least 17 years of age and have completed high school. The program cost is $3,500 which includes international airfare, orientation costs, in-country travel, housing, food, excursions, visa expenses, staff support, and international health insurance.

Foundation for Sustainable Development (FSD)
A nonprofit U.S. based organization that promotes international development programs in health, nutrition, education, law, microfinance, business, human rights, youth development, rehabilitation and more. They support grassroots development efforts by working with local communities. FSD has service projects in 9 different countries, most in Latin America. Participants can select from a variety of programs such as internships, summer service trips, short term volunteering projects, fellowships, or study tours.

Travellers
Travellers is a leading international provider of voluntary placements and work experience internships overseas. Choose from over 250 voluntary projects abroad in 20 countries, including Care and Community, Teaching, Sports, Work Experience Internships, Conservation, Marine, Language Courses, Cultural Courses, and Drama, Dance & Music plus some Education Abroad courses and projects abroad that are, well, different!