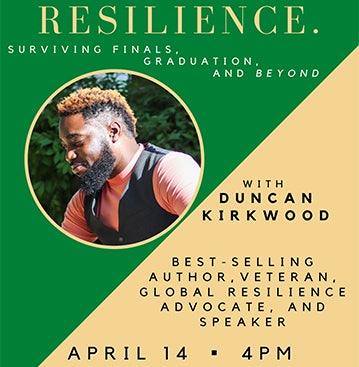 ​​​​​​​It's been a challenging year in many different ways. The VMSC invites you to attend "Resilience. Surviving Finals, Graduation, and Beyond" with Duncan Kirkwood. Duncan is a Best-Selling Author, Veteran, Global Resilience Advocate, and Speaker. During his military service he learned a great deal about follow-through, perseverance and how to develop a never quit attitude. His uses that experience, and his passion for helping others, to realize their own power and use it to shape their reality. He adapted his program for us to fit the student lifestyle and has agreed to leave time to answer questions at the end. Make sure you RSVP and we will see you there!
Click Here To RSVP​​​​​​​
​​​​
---
​​​​​​​
​​​​​​​Whether you are currently serving, have served or  are part of the military family, our goal at the Veteran & Military Success Center is to help you access all the tools and programs available to help you succeed at Cleveland State University and beyond.
Veteran & Military Resource Center Virtual Front Desk 
Monday through Friday 
9:00 a.m. - 5:00 p.m.
https://csuohio.zoom.us/j/475577866 
​​​​​​​Meeting ID: 475-577-866
The staff of the center can be reached by calling 216-875-9996 or emailing vikingvets@csuohio.edu.