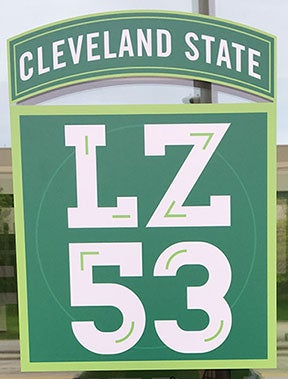 Vist the CSU Veteran & Military Resource Center at Trinity Commons - LZ 53* In over 3000 square feet of space, veterans & serving military have:
* A Dayroom (lounge) 
* Kitchen - refrigerator, microwaves, toaster oven, coffee pot (of course), and a geedunk/pogey bait (snacks & drinks).
* Computer room - 8 computers (1 wheelchair accessible) with two printers and a router for WiFi 
* Quiet & comfortable study space 
* Activities room - a place for yoga for vets etc. 
* VA VetSuccess Counselor (VA benefits specialist)
* The CSU Veteran & Military Resource Center has as its short name LZ 53 or Landing Zone 53.  LZ is easy to remember and this is the place where we hope all veterans and serving military at CSU will land.  Why "53" though?  During World War II Fenn College, the predecessor to Cleveland State University, was home to the 53d Cadet Training Detachment of the U.S. Army Air Force.  The 53rd CDT was a ground school for future USAAF pilots, navigators and bombardiers.  The choice to use "53" is to show an unbroken connection between all veterans and serving military who have attended Fenn College & Cleveland State University.