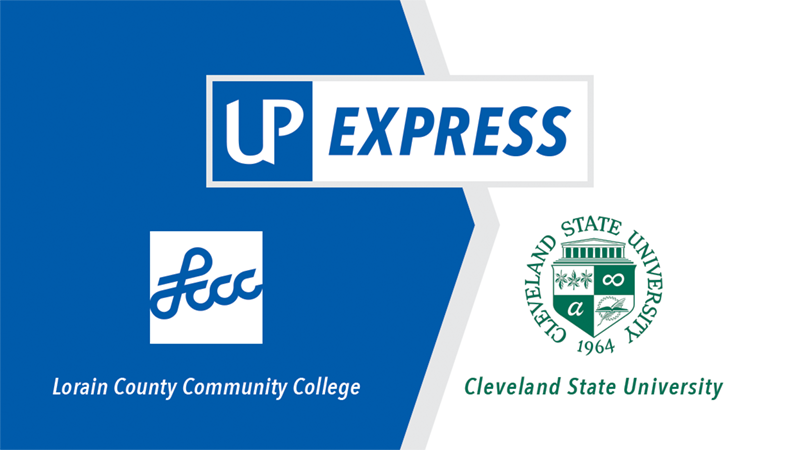 Cleveland State University and Lorain County Community College are excited to announce a new partnership.
The UP eXpress CSU program provides a structured academic pathway to a four-year degree for students who would benefit from starting their educational journey at LCCC.
Collaborative academic advising will guide students from the beginning of their studies at LCCC through graduation from CSU. It also allows students to seamlessly register for classes at both LCCC and CSU, while taking advantage of both institutions' special events and facilities.
This one-of-a-kind partnership makes earning a four-year degree possible for students of all backgrounds, and will allow students to focus on their studies while prepping for a successful career after graduation.
Program Highlights:
Students receive a Viking ID and can take advantage of both institutions' facilities and special events

Ability to take up to 3 classes at CSU while attending LCCC

Students will take a first-year experience course at LCCC taught by a CSU graduate

Collaborative advising from both LCCC and CSU staff members

Cost-effective and time-efficient pathway to a four-year degree

Priority consideration for transfer scholarships for those who meet the academic qualificiations

Additionally, CSU and LCCC are strengthening our collaborative efforts to support students by h

osting annual advising summits between LCCC and CSU representatives to build enhanced relationships and create a better and more supportive environment for students as well as

working to align curriculum for specialty programs such as engineering technology
For more information, visit here or contact:
Adam Sikula
Associate Director, Transfer & Adult Learner Services
Cleveland State University
216.687.5568
transfercenter@csuohio.edu
Sun Jamerson
Registrar
Lorain County Community College
440.366.7569
sjamerso@lorainccc.edu
Laurie Gibbs, J.D
University Partnership Transfer Coordinator
Lorain County Community College
440.366.7224
UP@lorainccc.edu