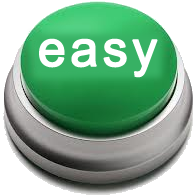 "Easy" is the new name for our Service Request, Problem Reporting system.  It is Easy to use, all you need to do is go to easy.csuohio.edu and sign in with your CSU ID and CampusNet password. 
After you successfully login in you will arrive at the Easy portal where you can:
View a scrolling news feed

Join a live CSU Live Feed where you can correspond with your colleagues

Search our Knowledgebase for information

Open up a ticket to either report a problem or request service

View your open incidents
If you need to request service or report a problem to IS&T, look at the instructions located under "Submit a Request".
Opening up your own incident with Easy has a great advantage in that your request will go directly to a work queue where multiple people can access and respond to your request or problem.
You can still call the Help Desk at 216-687-5050 or send an email to help.desk@csuohio.edu.
 If you choose to open your own incident:
You will see links to popular self-help documents that may help resolve your issue

All of your information will be pre-populated in the incident

You can select your problem or service request from a drop down box under Short Description

This will direct your incident to the proper work queue

You can set your own "Impact" setting from Low to High

The work group who will work on your incident will get an email notifying them that your incident was received

You will receive a verification email telling you the incident number with a link to the incident

You will be able to communicate directly with the person working on your incident as IS&T will be able to communicate with you via email

You will be able to see status changes and receive comments when they are entered into your incident

You will receive notification that your incident has been "Resolved" and will be given five (5) business days to contact us if the error or request has not been satisfied to your liking.  If this is the case, your incident will be reset to an active status.
The idea behind this system is to reduce the time it takes to solve your problem or satisfy your request.
Try it!  It's Easy.  (easy.csuohio.edu)