Provost's Teaching summit
Wednesday, April 12th, 2023   
Agenda
12:30 PM- Poster Session Opens
1:00 PM- Welcome Remarks
Dr. Shelley E. Rose, Interim Director of the Center for Faculty Excellence

Provost Nigamanth Sridhar
1:15 – 2:15 PM– Keynote Lecture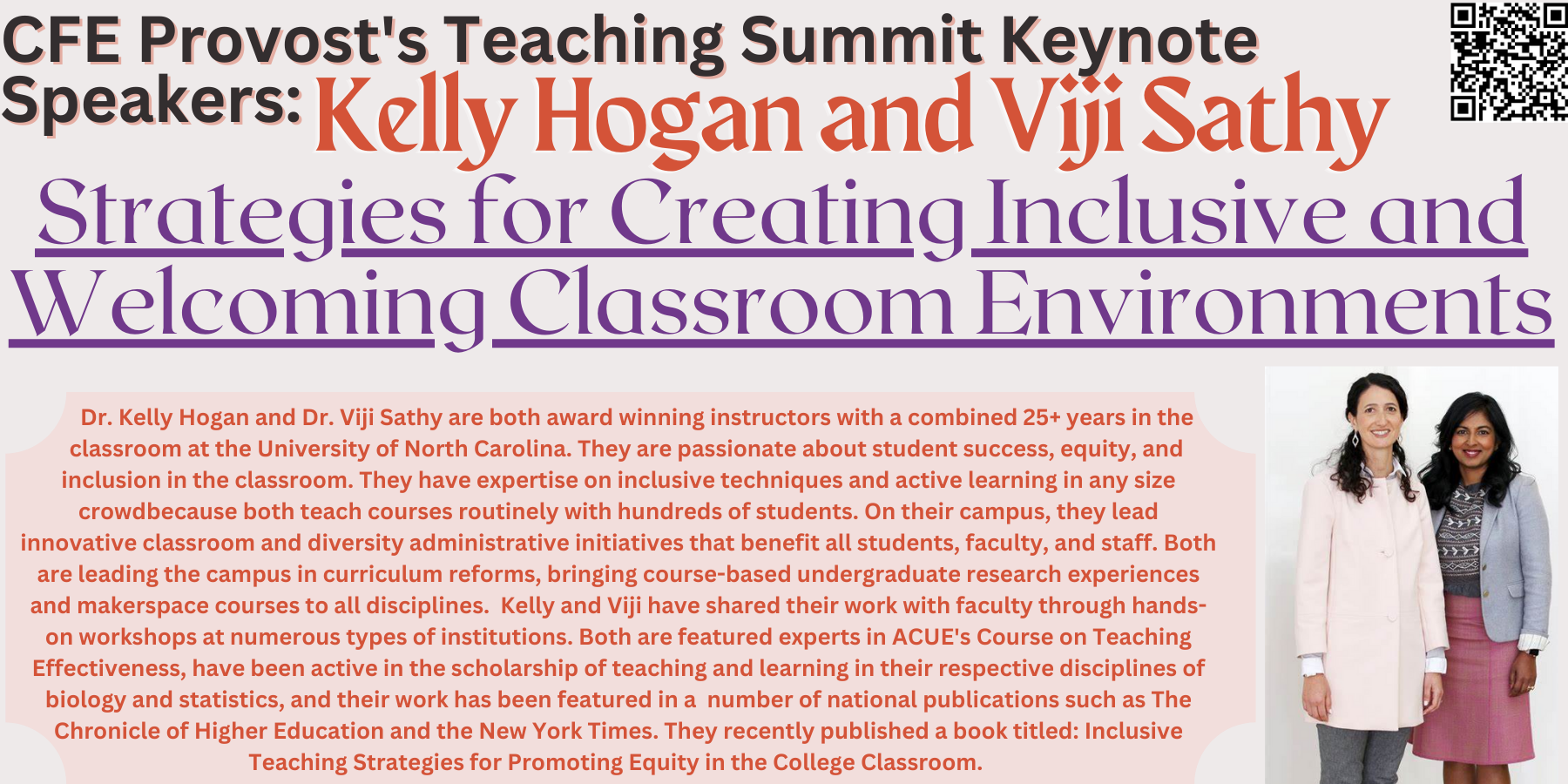 2:30 - TEA Awards Project Conclusions 
3:00 PM - New TEA Awardee Project Previews
3:30 PM -Textbook Hero Award
3:45 PM - Closing Remarks
---
About the Provost's Teaching Summit
To recognize the tremendous efforts of our faculty, and staff, we invite you to participate in the 2023 Provost's Teaching Summit. The 2023 event was held in the Student Center Ballroom. Featuring CSU faculty on interesting teaching initiatives and techniques they have tried during our Poster Session. Posters included short PowerPoint presentations, and printed research posters,  to document each contributors teaching innovation.
Our main event included an address from the Provost and a Keynote Presentation featuriong Authors  Kelly A. Hogan, Viji Sathy. Past and present Teaching Enhancement Award winners presented their topics and findings. Represnetattves from the Student Government Association presented and Open Educational Resources (OER) Committee presneted  the Textbook Hero Award to Ramune Braziunaite, PhD, Associate College Lecturer, School of Communication. 
 
Questions? Please feel free to contact us. 
Poster Title
Presenters
description
 

Classroom computing at the Ohio Supercomputing Center

Thijs Heus Physics
The Ohio Supercomputing Center offers classroom accounts that bring a stable, accessible computing platform to the classroom for free. I have used this in Environmental Physics to good success. The advantage is that students can log in through a browser, and can work on it from home, yet there is always enough computer power available, and there is no need to install additional software.
 
Creating an Inclusive Climate in the Chemistry Classroom
Erin Avram,  Chemistry
This is a personal reflection on the implementation and efficacy of the inclusive practices I have incorporated in my classroom.
 
The Film within the Play: The Production of the Short Film, The Belle of New Orleans, as a component of the play By the Way Meet Vera Stark 

Cigdem Slankard, Film & Media Arts
James Joyce, Film & Media Arts
Maria Gigante, Film & Media Arts
Russell Borski, Theater & Dance

 "The Belle of New Orleans" is a short film, which is a component of the play "By the Way, Meet Vera Stark", opening on April 20th at the Helen Theater . This film was produced collaboratively between faculty and students from two academic units: School of Film & Media Arts and Department of Theater & Dance. The project brought together four faculty members and more than 20 students in a project-based environment culminating in a professional film production. The poster will outline the ways in which this group of faculty and students interacted and collaborated throughout this process.  
 
Using Theory Charts of Human Injustice, Human Need, and and Human Liberation to Enable Students to Critically Re-Envision Their Views on Social Justice and Social Injustice    
 
Michael A. Dover,  Social Work. 
 This Poster Presentation showcases the pedagogical value of developing graphical renditions of theoretical work in teaching WAC to undergraduates in SWK 303: Human Behavior in the Social Environment, a WAC course open to non-social work majors, who comprise at least a third of my students most terms. 

 

 

 
View the Posters on our new Pressbooks page. 
---
PTS - 2022
View 2022 event recording here
The Poster Session for the 2022 Provost's Teaching Summit will open at 9:30AM EST on April 13, 2022. Posters will be made available in this space on the day of the event. Posters containing innovations and research in teaching are welcome. Graduate students are welcome to participate with a faculty sponsor. Breakout rooms in zoom will also be available for those who wish to present their posters with live discussion.
Poster Title

Presenter(s

Description

Media/ Links

CSU Affordability Initiative: Shared Goals and Milestones

Heather Caprette (eLearning)

Emilie Zickel (English)

Mandi Goodsett (Library)

Open Educational Resources (OER) provide the opportunity for all students to succeed because the materials are accessible from day one of a course. The OER Committee wishes to share an overview of the CSU Affordability Initiative -- a collaborative effort among CSU faculty and staff across the university, along with the SGA, to make education more affordable and accessible to all students.
Booklet Link
Preparing for STEM Careers through an Engaged Physics Education
Kiril Streletzky & Petru Fodor (Physics)
Multifaceted approach to physics education combines rigorous academics with undergraduate research, strong student community, opportunities in public outreach, and teaching.
PDF
Using Screencasting to Promote Revision Skills and Writerly Agency in a First-Year Writing Classroom
Melanie Gagich & Julie Townsend (English)
We discuss two different assignments that ask first-year writing students to use screencasting software, share our student responses, and review relevant literature related to the use of screencasting in classrooms. We conclude with ideas for future research and assigment revisions.
PDF
Crime Scenes in the Classroom: Problem Based Learning as a Tool for Motivation
Melissa Clark (Anthropology)
Students learn the principles of forensic anthropology by excavating and processing crime scenes and analyzing human remains.
PNG
Efforts to Improve Student Engagement with Blackboard Content
Patricia Stoddard Dare (Social Work)
Describes five strategies used to improve student engagement with Blackboard, including changes to textbook, grading, and student communication.
PDF
Utilizing 3D Immersive Data Visualizations in Cybersecurity

Charles McElroy (Information Systems & Technology)

An overview the incorporation of 3D immersive data visualizations in cybersecurity research. While much is known about incorporating 2D data visualizations into teaching, there is a dearth of knowledge about effectively incorporating 3D data visualizations into the education enterprise. This poster presents some of the initial questions about how to build such an experience as instantiated in cybersecurity reseach. 
PDF
Developing Critical Thinking Skills Through Dialectical Process
Mamadou Seck (Social Work)
Developing students' critical thinking skills requires them to master three stages of thinking process. Once these stages are mastered, students will enhance their participation in discussion assignments with more relevant and significant contributions.
Video