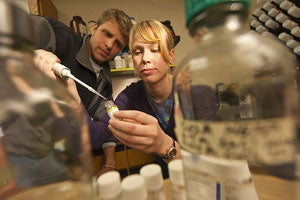 According to the Center on Education and the Workforce, 8 million new jobs will be available in STEMM-related fields by 2018. The Choose Ohio First Scholarship Program is part of the state's strategic effort to significantly strengthen Ohio's position in world markets such as aerospace, medicine, computer technology and alternative energy.
The Choose Ohio First Scholarship Program is a state-funded program aimed at graduating more students in Science, Technology, Engineering, Mathematics and Medicine (STEMM). The State of Ohio recognizes that a workforce trained in these areas is essential for strengthening our economy.
At CSU, Choose Ohio First scholars are pursing degrees in biology, chemistry, engineering, math, medicine, nursing, physics, science, technology and related fields. Students interested in teaching a STEMM discipline also qualify for the scholarship program.
Scholarships can range between $1,500 - $7,000. These scholarships are renewable and may be awarded even if a student is already receiving scholarship support from other programs (Honors, Voyager, Athletics, etc.).  Scholarships are for tuition, so a student with a full tuition scholarship is not eligible.  Among students selected to become Choose Ohio First scholars, award amounts are determined based upon unmet financial need with all eligible students awarded at least $1,500 per academic year.
Choose Ohio First is ideal for full-time undergraduate students who would most likely not have the opportunity to pursue a STEMM degree or would struggle to complete a degree.
Students who benefit are:
Students who would normally go out-of-state for a STEMM degree
Students interested in STEMM but who choose a different major
Non-traditional students seeking to enhance or change their career
Former military personnel
Persons working in industry
Populations underrepresented in the STEMM disciplines
Choose Ohio First scholars are required to take part in regular activities. Activities vary by track but may include advising, tutoring, community service, peer mentoring and undergraduate research.
Who Can Apply?
You must:
Be a new entering freshman student or a transfer student for Spring 2018 or Fall 2018
Be an Ohio resident
Have an undergraduate degree plan for a STEMM (science, technology, engineering, mathematics, nursing or medicine) major
Have a high school grade point average of 3.0 or higher, or ACT score of 27 or higher, or SAT score of 1650 or higher
Have a commitment to COF program requirements
Have a current FAFSA on file with Financial Aid
Not already be receiving a full scholarship
​Residential Option Available:
Reasons to love living in Fenn Tower/on the STEM Floor:
Traditional residence hall experience 
​Strong, tight-knit community 
Living amongst students with similar classes, majors, and academic goals! 
In-hall convenience store located on the first floor 
Lounges, classrooms, and study rooms right in the building 
Fully furnished units with in-suite bathrooms
 Here's what Fenn Tower residents had to say!

"I love the closeness that everyone has in the building. There isn't a day that I walk in or out and don't run into someone I know. Everyone on my floor is amazing—we are all like a big family!"

"I absolutely love the setup of my room and the view of the West side is spectacular!"

"Being so close to downtown Cleveland is an incredible feeling! I can look out of the window of the common room and see the life of the city. I live with an amazing roommate and have made friends with those on my floor that I know will be lifelong friendships" 

"The atmosphere is very inviting and welcoming, and the rooms are nice and spacious"

"I like being surrounded by a lot of people to socialize with and ask for help in my classes if I need it. It's like a small community right outside of my door"

"The floor plan gives everyone so many options to meet new people. The rooms are very nice and I like the amenities that it provides"
 

How Do I Apply?
Applications for the 2017-2018 academic year are closed at this time. The application for the 2018-2019 academic year will open on Friday, November 3rd, 2017. 
 
| CSU Choose Ohio First Programs | Academic Areas |
| --- | --- |
| Bioscience and Healthcare | Biology, Chemistry, Education, Engineering, Health Sciences, Mathematics, Pharmaceutical Sciences, Psychology, Physics |
| Life Science Pipeline | Biology, Health Sciences, Environmental Science |
| Student Success in Mathematics | Biology, Chemistry, Computer Science, Education, Engineering, Environmental Science, Mathematics, Physics |
| Improving STEMM Teacher Preparation: A Long Term Investment (D-STEM) | STEMM Teacher Education |
| Engineering Across the Pipeline | Engineering, Physical Sciences |
| Pre-Professional Programs | Pre-med, NEOMED/CSU Partnership |
| Bachelor of Science in Nursing (BSN) | Nursing |