UPPER DIVISION ONLY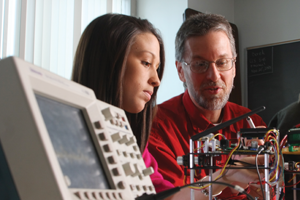 The goal of this program is to acquire the skills needed to secure and complete a professional internship or community service position.  The following are activities expected of the Scholar in order to achieve this goal:
Identify internship and service opportunities.  Suggested resources are Career Services, College Advising Offices, the Volunteer Program of the Department of Student Life, and the Office of Civic Engagement.
Develop a resume and cover letter targeted towards desired position.
Develop and demonstrate interviewing skills by participating in mock interviews.
Apply and secure an internship or on-going community service experience of at least 120 hours duration.
Develop learning objectives prior to starting the experience.
Report progress of responsibilities/activities completed.
Applying for the COF Internship/Service Track
Students in any of the Choose Ohio First Programs can apply for the Upper Division Internship/Service Track at the end of their Sophomore year.  The scholar must be in good standing in the COF program, including continuing in any of the approved COF majors.
Students transferring to CSU as Juniors or Seniors may also participate, but must submit a general COF transfer student application indicating interest in the Internship/Service Track or contact the COF Coordinator directly.
In their applications, scholars need to demonstrate how an internship or service experience would impact their career or academic goals.  Applicants should describe the type of experience they will be seeking.  Finally, students must commit to participating in an internship or community service experience lasting at least 120 hours in duration.
COF Internship/Service Track Procedures
Developing a Plan
Upon admission into the COF Internship/Service Track, a faculty advisor and Career Services advisor will be assigned.  Both advisors will work with you to prepare a plan to identify an internship or community service opportunity and develop a plan to apply to and/or secure the opportunity.  A list of possible activities are provided below. 
Semester Reports
By the end of each semester a brief report will be submitted by the scholar.  This report will outline all Internship/Service activities completed to date.  If any modifications to the approved plan are desired, they can be made at through this report.  Satisfactory progress, including evidence that the student will complete all tasks by graduation will be required to continue in the program.
Poster Presentation
Prior to graduation a poster presentation on the internship or service work completed will be presented by the Scholar at the annual Choose Ohio First poster presentation.  The poster should convey learning objectives, responsibilities/activities completed, courses taken that were relevant to the experience, and reflection on lessons learned. 
For More Information Contact:
Dr. Anne Su
216.687.3546
​a.su@csuohio.edu