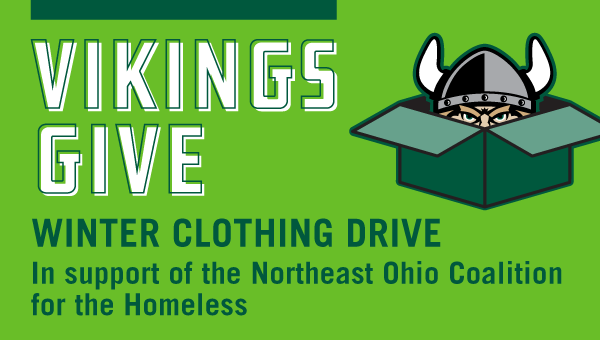 Accepting donations from November 6 - December 11
In partnership with the Northeast Ohio Coalition for the Homeless (NEOCH), Cleveland State is collecting winter clothing items to be donated to the homeless and unhoused community in Downtown Cleveland and around campus from November 6 until December 11. 
NEOCH exists to eliminate the root causes of homelessness while loving its diverse community through organizing, advocacy, education, and street outreach and is located right in Downtown Cleveland at 3631 Perkins Ave, Suite 3A-3, Cleveland, OH 44114.
We're seeking donations of the following items. For safety reasons, please only donate new or gently used, clean clothing items. All adult, children and infant items are accepted. Please no undergarments.
Coats and jackets
Earmuffs
Gloves and mittens
Hats
Long sleeve shirts
Scarves
Socks
Sweatshirts 
Sweaters
Administration Center Suite 113
Berkman Hall First Floor Near Barrio
College of Health – Room 307
College of Law – Room 106
Glickman-Miller Urban Building Room 335
Monte Ahuja Business Building Room 420
Science and Research Building Room 353
Student Government Association Office Student Center 343
University Recreation and Wellbeing Center – First Floor
Veteran and Military Success Center at Trinity Commons
Washkewicz Hall, Room 305
The donation boxes are in place now and we'll collect donations until Monday, December 11. 
For more information, please email Lisa Evans at l.evans22@csuohio.edu.