Posted on March 7, 2017 at 11:31 AM, updated March 10, 2017 at 4:29 PM Print
The exhibition explores the physical, perceptual, psychological, and esthetic uses of color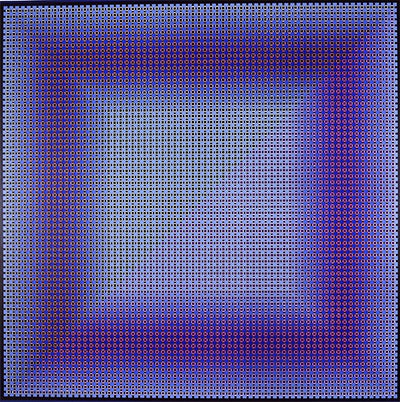 The Galleries at CSU are pleased to present "The Curious Case of Color," the feature exhibition of the 2017 spring semester. It explores the physical, perceptual, psychological, and esthetic uses of color in the work of 12 contemporary artists. The exhibit will be held March 10 through April 15 at the Galleries, 1307 Euclid Avenue, Cleveland. In addition, an opening reception including talks by several of the featured artists will be held March 10 from 4 p.m. to 8 p.m. at the Galleries.
Artists included in the exhibit range from the "Father" of Op Art Julian Stanczak and internationally acclaimed painter Matthew Kolodziej to emerging artists such as Rachel Beamer and Anna Tararova. Some explore the behavior of color on an abstract level, investigating optical phenomena such as simultaneous contrast, chroma, and hue. Others concern themselves with the real world and the ever-shifting, transformative effects of color on society and how we perceive it. Finally, additional artists survey the symbolic significance of certain colors and color combinations, leaving no doubt that colors have meaning beyond straightforward perception.
"One thing this group of works affirms is that color requires some form of structure to be fully understood," says Robert Thurmer, director of the Galleries at CSU. "Pure color is difficult, perhaps impossible to appreciate without an arrangement of it relative to something else – another color, a boundary, a 3-dimensional form, a pattern, an image, or a temporal sequence. What the artists in this show do so amazingly is present color and all of its contrasts in completely unique but all fascinating arrangements."
The Galleries at CSU is open Tuesday, Wednesday and Thursday from 12pm to 5pm and Friday and Saturday from 12pm to 7pm. For more information about the spring exhibit and other upcoming shows, visit http://www.csuohio.edu/class/art-gallery/art-gallery.