Posted on August 13, 2014 at 4:03 PM, updated August 13, 2014 at 4:03 PM Print
Veteran human resources professional joins Washkewicz College of Engineering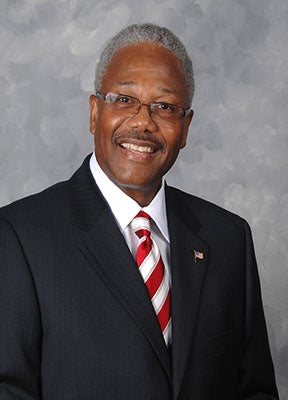 Duane M. Crockrom, a veteran human resources professional who held managerial positions with the Parker Hannifin Corporation and other Fortune 500 companies, has been appointed executive in residence at Cleveland State University's Washkewicz College of Engineering.
In his new role at CSU, effective July 1, 2014, Crockrom serves as a liaison between the University and Parker, which enjoy a strong partnership. Parker Chairman, CEO and President Don Washkewicz, a CSU alumnus, and his wife, Pamela, as well as the Parker Hannifin Foundation donated $10 million in 2013 to CSU, whose College of Engineering is named in honor of Don Washkewicz.
"Cleveland State University is fortunate to have an executive of Duane Crockrom's caliber in residence," said CSU President Ronald M. Berkman. "His wealth of experience, particularly with regard to successfully connecting college graduates with rewarding employment opportunities, will be a tremendous asset for our students."
Crockrom oversees initiatives made possible by the generosity of the Washkewicz family and Parker, including a scholarship program for students in the Washkewicz College of Engineering and in CSU's Monte Ahuja College of Business.
"These scholarships will provide transformational opportunities for outstanding engineering and business students," Crockrom said.
Through his career, Crockrom was involved with recruiting college graduates for various employers. CSU students often stood out to him, thanks to the University's emphasis on Engaged Learning, which combines classroom teaching with hands-on experience in an urban setting.
"The majority of recruits from CSU had some kind of practical experience, either through co-op opportunities or internships, that put them ahead of other job candidates," he said. "They had a solid foundation of knowledge, too, but they weren't just book smart."
Crockrom joined Parker in 1988 and served as an area human resources manager, directing recruitment, talent development and employee relations. He retired in August 2013, although he continues to work with Parker in a consulting role.
After launching his career in human resources with the Sherwin-Williams Company, Crockrom went on to work 10 years in various personnel positions with the Warner & Swasey Company. From 1986 to 1988, he served as human resources management consultant for NASA in Washington, D.C.
Crockrom, a Cleveland native, holds a B.A. from Baldwin Wallace University and an M.B.A. from Lake Erie College, as well as an industrial relations certification from CSU. He is a member of the College of Engineering's Diversity Council and an emeritus member of the Visiting Committee. He also is past vice president of the Fenn Educational Foundation, past president of the Delta Alpha Lambda Chapter (Cleveland) of Alpha Phi Alpha Fraternity, a Prince Hall Mason and member of the Steward Board and Praise Choir of Lee Memorial AME Church.