Posted on December 18, 2022 at 3:57 PM, updated December 19, 2022 at 10:48 AM Print
CSU confers over 800 degrees during Fall '22 Commencement at Wolstein Center
Exercises included addresses by former Ohio Senate/House member Hon. Sandra R. Williams; Cleveland DJ Lawrence James "Kid Leo" Travagliante, CSU Doctor of Humane Letters, Honoris Causa; Veronika Ruth Stropko-Jorgensen, University Valedictorian.
CLEVELAND (December 18, 2022)- Cleveland State University (CSU) celebrated the Fall 2022 graduates with the 82nd Commencement exercises at the university's Wolstein Center on Sunday, December 18 at 1 p.m. CSU conferred over 800 degrees to graduates during the event, which bubbled and bustled with energy and enthusiasm from soon-to-be alumni and the throng of family, friends and supporters who packed the arena to cheer them on.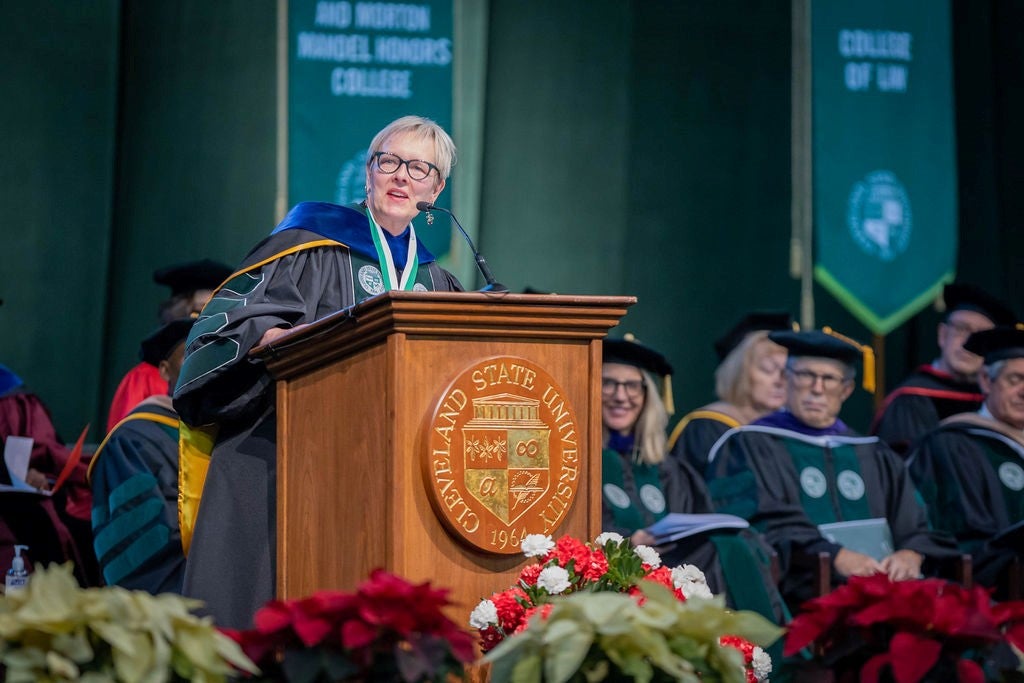 "Congratulations, graduates, on the years you have spent creating your own path, overcoming challenges and achieving your goals," said CSU President Laura J. Bloomberg (left) during her opening remarks. "And to the parents, spouses, children, family members and friends joining us today in-person and watching online, we're so glad that you're here."
Dr. Bloomberg called the experience "an incomparable pleasure," noting the bittersweet nature of students moving on to the next stages of their lives.
"We have seen you on good days and bad; seen you succeed, and seen you stumble," she said. "When I learn about the stories of your success, and your perseverance and your dedication, I am personally inspired every single day. I am proud to know you and I am proud of what you have accomplished." 
She was hardly alone in her encouragement, inspiration or elation of the day.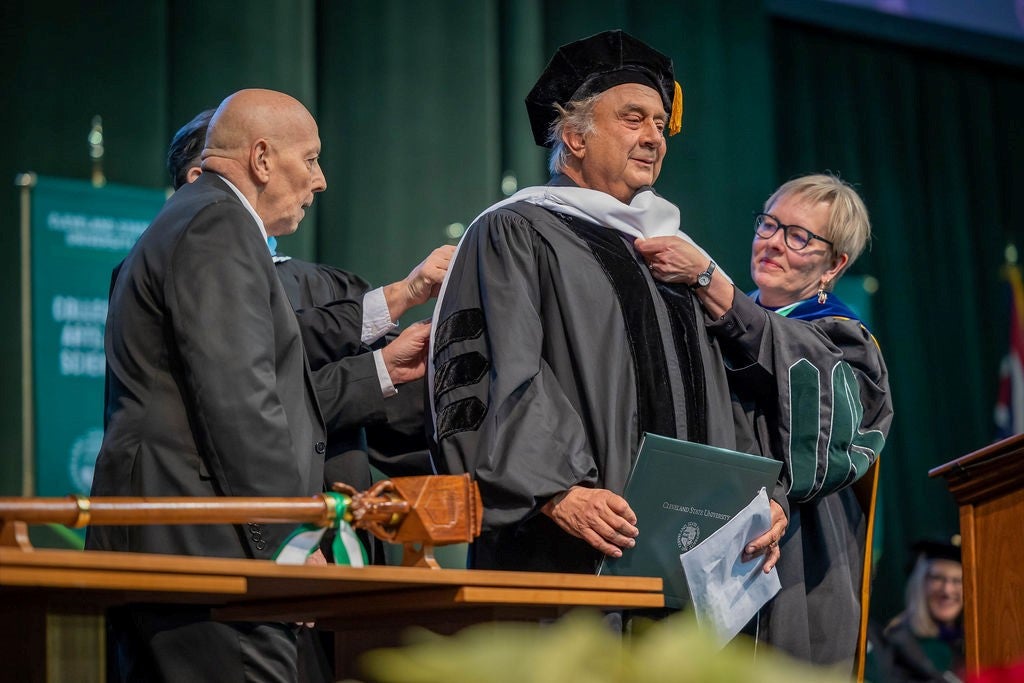 Lawrence James Travagliante, best known to Clevelanders by his on-air moniker "Kid Leo," received the degree of Doctor of Humane Letters, Honoris Causa during commencement. Currently the General Manager and afternoon disc jockey on "Little Steven's Underground Garage" on Sirius XM Radio, the broadcasting icon, pioneer and catalyst who brought many artists (and the city itself) worldwide acclaim through Cleveland rock radio station WMMS-FM.
"I left Cleveland State University just about 12 credits, one quarter, short of graduating," said Travagliante (left) who also served as a student broadcaster and journalist while attending CSU some 50 years ago.
"I want to say that I am honored, appreciative and blessed to be presented with this honorary doctorate degree. This diploma is quite a feeling and you'll understand when you receive yours very shortly—but I also want to say that your diploma means nothing unless you honor it by applying all you have gained and learned here at CSU from this day forward."
"Now we can finally say there's a doctor in the family," he added.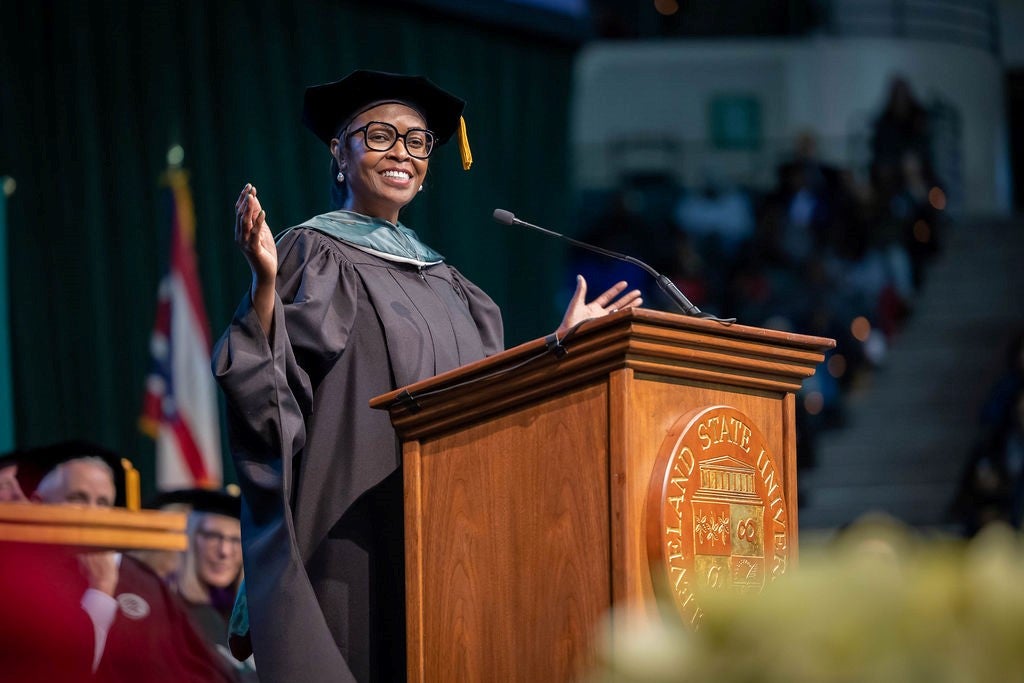 Former member of the Ohio Senate and Ohio House of Representatives Sandra R. Williams served as Keynote Speaker at Commencement. Williams, who joined Charter Communications-Spectrum as Director of State Government Affairs earlier this year, served in the Ohio Senate representing the 21st district from 2014 - 2022. Her Ohio House of Representatives tenure spanned from 2007-2014.
"To be a part of this community is a lifetime gift," said Williams (left). "One which has been a portal for so many who have been the first in their family to earn a degree. It has been a place where so many of us have been given the opportunity to aim high and work doggedly to achieve our academic, professional and personal goals. Nothing worthwhile in life is easy.
Williams noted that between CSU and her military experience, she was inspired to always push forward, to persevere, to never give up.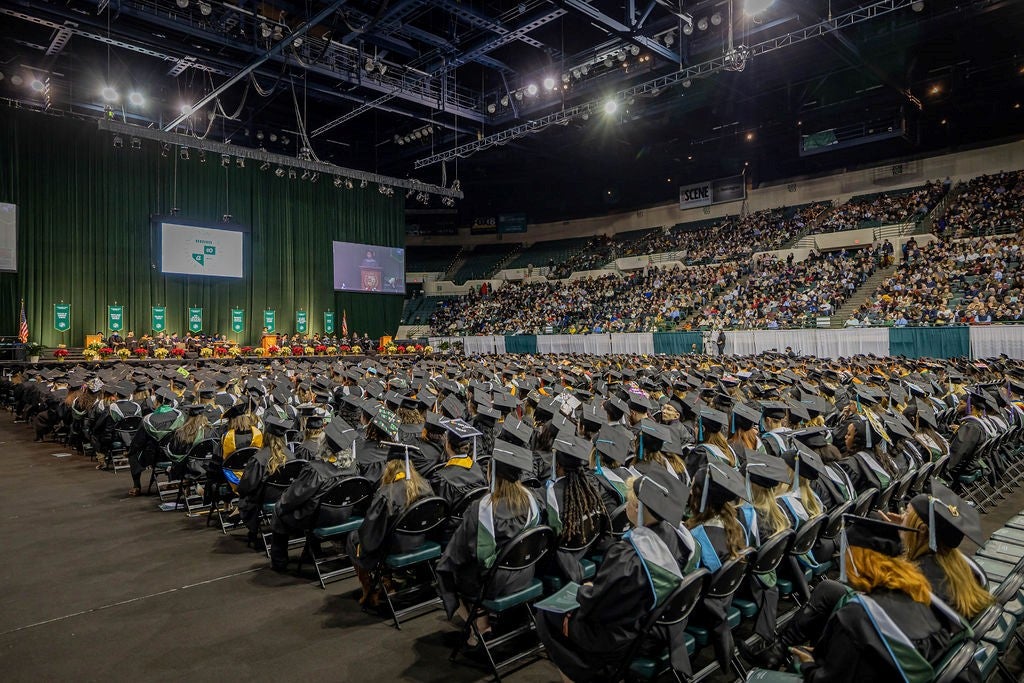 "Remember that failures and obstacles are inevitable when we are chasing our dreams," said Williams. "But no one else gets to define you but you. Failures are coming and they're hard sometimes. The most important part about failures is how you react, how you bounce back and how you move forward."
Both speakers shared more inspirational words with CSU in the lead-up to Commencement.
As the first valedictorian for CSU's Levin College of Public Affairs and Education, College of Arts and Sciences' Salutatorian and overall University Valedictorian, Veronika Ruth Stropko-Jorgensen had plenty of wise words for those in the audience—students and supporters alike. She shared how CSU provided her opportunity to transform her varying interests into a full-blown launching pad for an exciting career—building out her studies with meaningful undergraduate research projects that would deepen her experience and lead her to her next step in life: heading to Belize with the Peace Corps.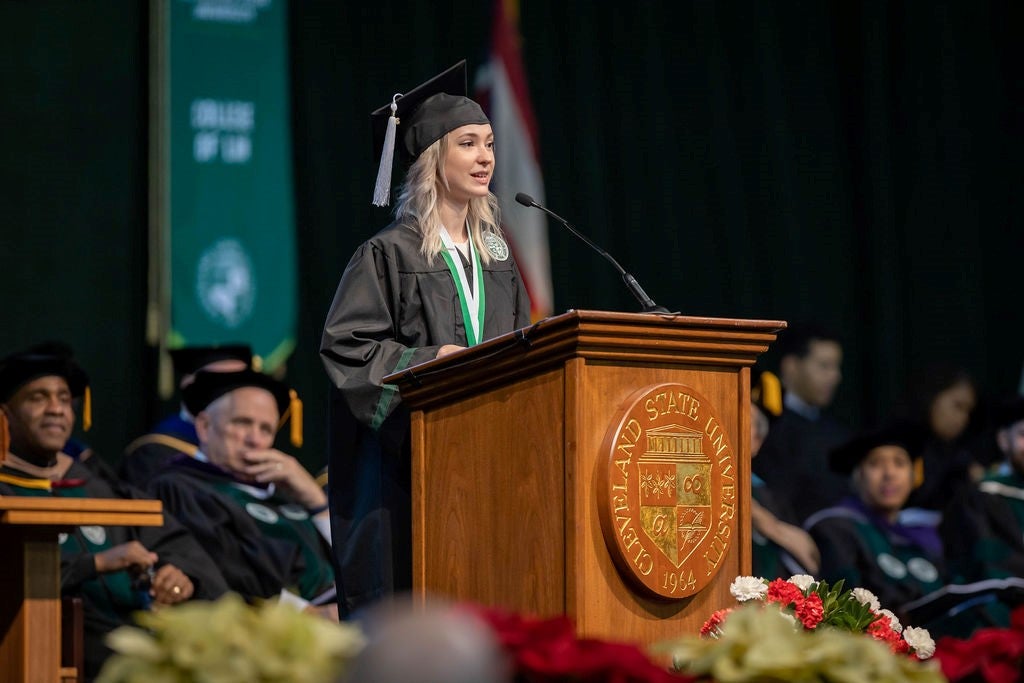 "We are resilient we are adaptable. We have lived through numerous historical events, personal challenges, and changes to the world in which we all live," said Stropko-Jorgensen (left), noting strength and collective perseverance in the student body "instead of giving up or throwing in the towel" when things got difficult.
Graduating Summa Cum Laude with a double major in Sociology and Psychology and a minor in Philosophy with a Bioethics certificate, Stropko-Jorgensen added that "human beings do not exist in our vacuum," noting families, friends, partners, mentors, local communities, and the CSU community support as being critical to that strength and collective perseverance.
"Every single one of us here today, understands the power of education and its ability to change the world so again I'd like to take a minute to think our communities of support both seen and unseen, who made it possible for each and every one of us to be here today," she added.
"I'd like to thank my family for their extremely loud and unwavering support; my friends for all their encouragement, and all the children I've worked with, for helping me learn to love the world."
Stropko-Jorgensen finalized, ending her address with Don't Hesitate, a poem by late Cleveland poet Mary Oliver:
"If you suddenly and unexpectedly feel joy, don't hesitate. Give in to it. There are plenty of lives and whole towns destroyed or about to be. We are not wise, and not very often kind. And much can never be redeemed. Still, life has some possibility left. Perhaps this is its way of fighting back, that sometimes something happens better than all the riches or power in the world. It could be anything, but very likely you notice it in the instant when love begins. Anyway, that's often the case. Anyway, whatever it is, don't be afraid of its plenty. Joy is not made to be a crumb."
# # #
About Cleveland State University
Founded in 1964, Cleveland State University is a public research institution that provides a dynamic setting for Engaged Learning. With nearly 16,000 students, eight colleges and more than 175 academic programs, CSU was again chosen for 2022 as one of America's best universities by U.S. News & World Report, including the #1 university in Ohio for social mobility. Find more information at www.csuohio.edu.