Posted on December 15, 2022 at 5:12 PM, updated December 15, 2022 at 5:12 PM Print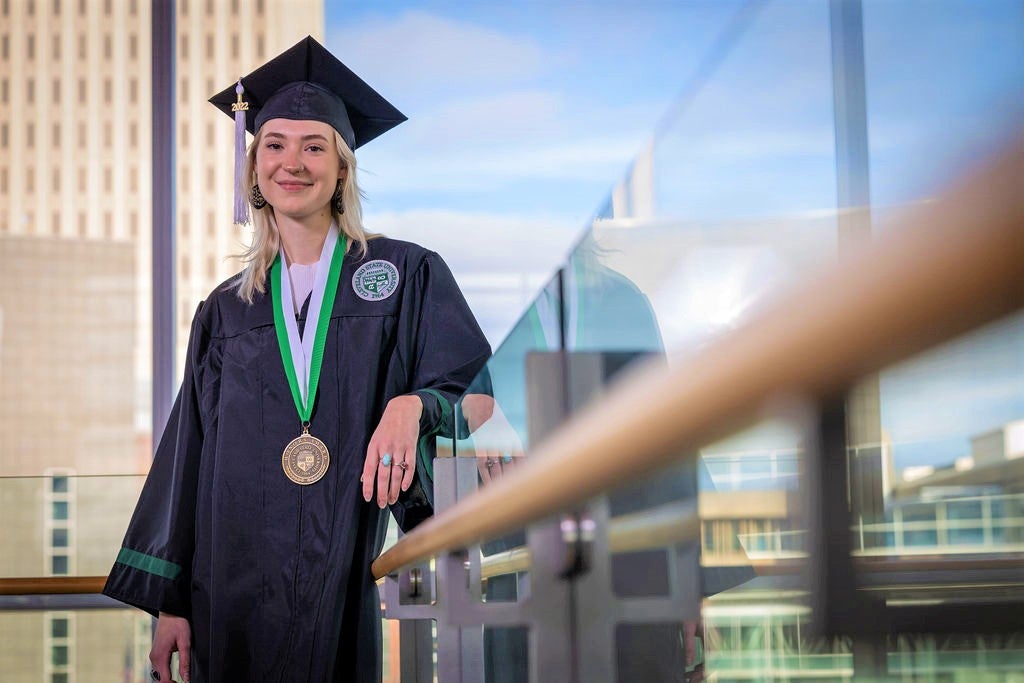 Meet Veronika Ruth Stropko-Jorgensen
CSU Valedictorian for Fall 2022
As the first valedictorian for Cleveland State University's Levin College of Public Affairs and Education, College of Arts and Sciences' Salutatorian and overall University Valedictorian, Veronika Ruth Stropko-Jorgensen has certainly made a name for herself on the CSU Campus.
Graduating Summa Cum Laude in the Fall of 2022 with a double major in Sociology and Psychology and a minor in Philosophy with a Bioethics certificate, Veronika has proven to be a creative, dedicated, and resilient student. A deep interest in the study of psychology began in high school.
CSU provided her opportunity to transform interests into a full launching pad for an exciting career—building out her studies with meaningful undergraduate research projects to deepen her experience.
Under the direction of Dr. Elizabeth Goncy, Veronika pursued a Psychology Honors Thesis and completed an impactful research project on interpersonal trauma and the parent child relationship. She also participated in the Undergraduate Summer Research Award Program for the THRiVE research collaborative, where she studied perceived school-based sex education for LGBTQ+ youth.
She also had the opportunity to present her research at an international conference known as Resilience Con and in CSU's Undergraduate Research Showcase. Undergraduate research, as you'll soon read, is among the key components that made her CSU experience like no other.
Veronika's academic career was also enriched through several hands-on, real-world learning opportunities. She served as a psychology and biology tutor in the Tutoring & Academic Success Center, became a Greater Cleveland College Now mentee (and scholarship recipient), and volunteered at Fairview Hospital, where she helped to discharge patients and perform lab work.
More recently, Veronika volunteered through Shared Vision, a nonprofit organization that promotes and provides opportunities for personal growth, healing, spirituality, and education in a safe and supporting environment through nature based experiential work and community building.
Through her studies, Veronika has grown as a researcher, a student, and most of all as a person. She has appreciated the opportunities afforded to her which have helped to diversify her skillset.
"As a person, I became more confident than I was when I started. More resilient," she added. Her academic and lived experiences ignited a passion for social issues and international work.
She will serve as a Youth Health Educator in Belize, supporting Belizean youth to lead healthy and empowered lives to realize their full potential into adulthood beginning September 2023. In the interim, she has designs on working in a Montessori educational environment.
Veronika is looking forward to working closely with the families and the community in which she will be embedded. She will volunteer in local schools, implementing the National Health and Life Skills curriculum designed to address physical education, school-based health, and well-being activities for youth ages 6 to 14.
She thanks Dr. Goncy and Kristi Ninnemann for their mentorship and support as she navigated her CSU experience, describing them as "phenomenal human beings" who believed in her and treated her as a person. Likewise, she expressed gratitude for the support of her family and her dog, Rube.
Cleveland State University caught up with Veronika for an interview recently. She provided some tremendous insights on her time here at CSU.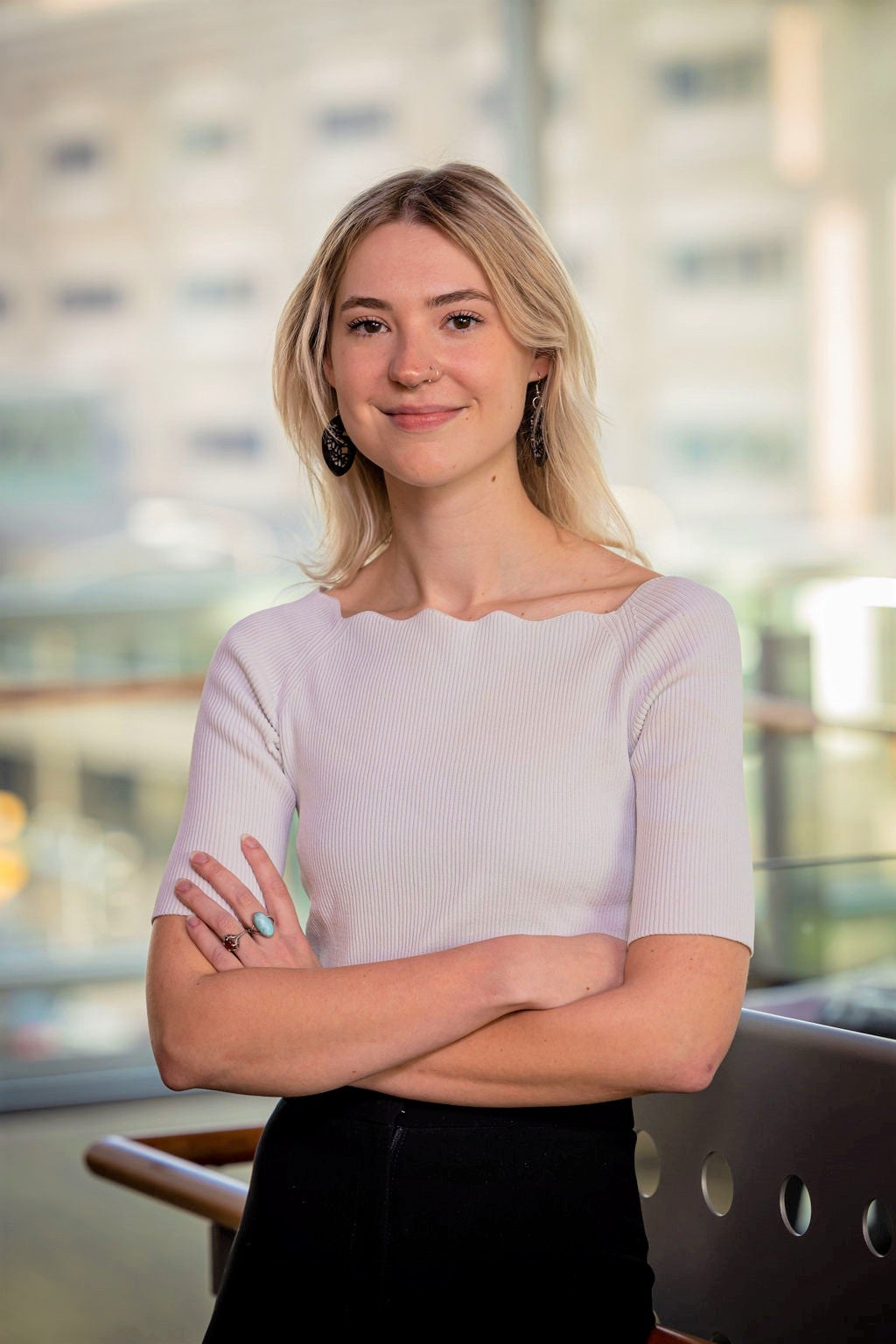 Cleveland State University: Can you tell us about the moment you decided to move forward with CSU – your "yes, this is the college for me" moment, if you will?
Veronika Ruth Stropko-Jorgensen: When I was in high school, I applied to 14 different schools. I was just sort of throwing ideas at the wall, but my main goal was to graduate without any student debt. I wanted absolutely no debt. I also wanted to stay close to home. My family's important to me; I lived at home throughout my time in college, and it was wonderful. I know that not everyone has that experience or privilege, but that was wonderful for me—especially with the pandemic and the world basically shutting down along the way. Being online and at home was a luxury that I'm incredibly grateful for. I had friends in college who were across the country and stuck where they were, which was just terrible for them.
Having said that, CSU was just the right choice for me based on my financial goals, my personal goal of staying close to home… and I knew that I would have plenty of solid opportunities for undergraduate research, which was incredibly important to me. It all just made sense.
CSU: What put you on the path to your majors? Were there any defining moments or inspirations?
VRSJ: I knew I wanted to major in psychology by high school. It felt essential for me. I am passionate about people. I desperately wanted to understand people and still do. So, I started there. And then about halfway through my freshman year at CSU, I added sociology as a major thinking, "This will really help me understand people!" (laughs)
The overlap between the two was natural, looking at individuals and the systems in which we live. From there, things just became progressively more specific: minoring in philosophy, earning a bioethics certificate, taking philosophy classes… and being a nanny for six-plus years factored in as well. When you work with kids from the ages two to seven? It's a formative, wonderful experience. To play a role in someone's child development is incredibly rewarding. I have families where I'm like a part of the family now. Put it all together and that's how I began to plot out what I wanted to do for the rest of my life.
CSU: Once you started into your major classes, did your perception of that course of study change?
VRSJ: I don't know that it did. I mean, everything became more complex, but in a good way. You're building a foundation for greater and greater understanding. Also, during my entire high school experience, I was reading the kinds of textbooks that are used in colleges and universities just out of a pure interest in the subjects. I did it in my free time, not for any other reason. I feel like that knowledge helped create a sturdy foundation which kept getting reinforced and built upon when I got here.
CSU: What was the best class you've taken at CSU – or the class you enjoyed the most – and why?
VRSJ: This is a good question. Difficult too, because I've taken a lot of great classes at CSU. The best class is also the one I enjoyed the most: Dr. Phillip Manning's Sociology and Mental Illness. It was a very difficult class, he's a challenging professor. If you go to Rate My Professor, the poor guy has terrible reviews with students dragging him. But he's not a bad professor at all. It's almost a graduate-level course in terms of intensity. It completely changed my perspective on mental illness and how we treat it.
CSU: Tell us more about that.
VRSJ: Well. He really gave you a lot to think about. It wasn't all white boards and [Microsoft] PowerPoint slides. It was in-depth, conversational, discussion-heavy and fortified with a great book to dive into. You would come to class and listen. And while I know not everyone does, I learn best that way. I was always excited to go to that class, just listen and soak everything up like a sponge.
In some circles, psychology has this bad reputation for being a pseudoscience, even though that's a completely outdated belief. When it comes to how we treat mental illness, he really reinforced that there's still a lot of work needs to be done. We still don't have a biological basis for a lot of mental illnesses. It's disheartening because there are a lot of real-world impacts for people who suffer from mental illness. And that just inspired me on how to see the bigger picture, change my perspectives.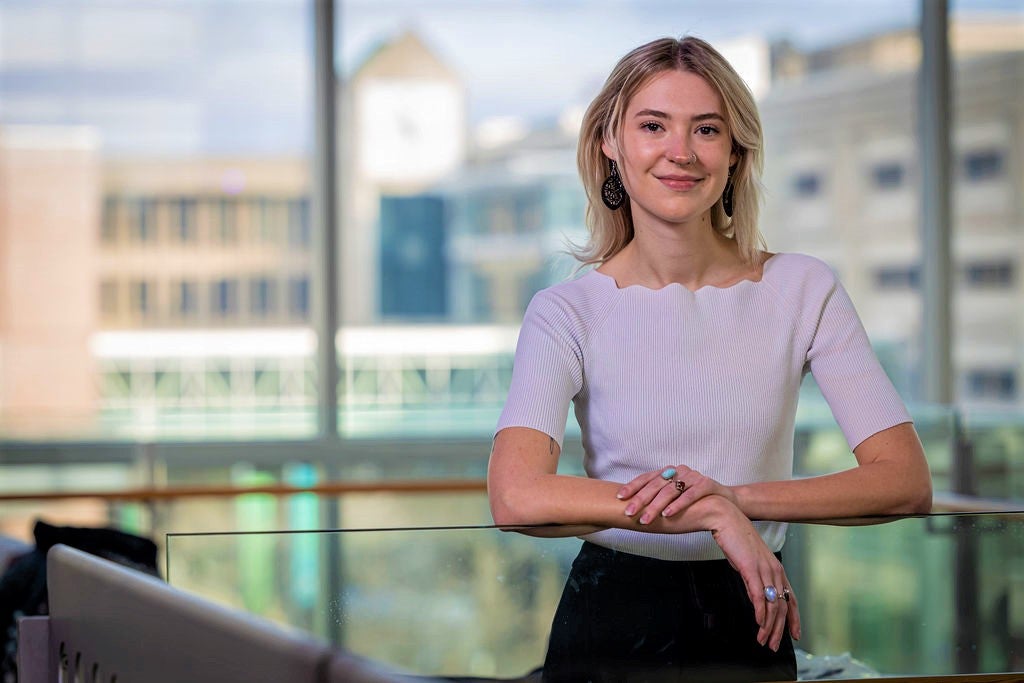 CSU: How has CSU cultivated your character, values, and standards of excellence? How do you think you've changed or grown during your time at CSU?
VRSJ: My time at CSU has made a more resilient person, a more well-rounded individual, a more confident person. Not that I wasn't before, but you know the college experience gives you as many soft skills as it does hard skills. My research experiences took me way outside my comfort zone, but I had so much support— from both my mentor Dr. Goncy and my lab. I developed and executed a qualitative project surrounding interpersonal trauma and parent-child relationships, which sparked a passion for trauma prevention research and the entire research process in general.
I think community support and connection give you strength. You see others' standards and values on display, and you elevate. Your professors and classmates instill a desire to be better. There's a shared experience, building upon your own values as everyone around you does. I don't think I had that coming out of high school (laughs).
I should also mention that my sophomore year, I had medical emergency where I was out of school for a week in the hospital and wasn't sure I was going to go back. It was terrible. But when I came back to CSU—and I'll never forget this—there was an entire care team that helped me reintegrate back into school. The Office of Disability Services reached out to me, the Counseling Center reached out to me, all my professors went above and beyond to accommodate me. It was completely unexpected, but that's a big reason why I am graduating. That instilled values in me that I want to pay forward.
CSU: Aside from being University Valedictorian, what stands out to you about your CSU experience?
VRSJ: My research experience was phenomenal, though I'm not sure I'm in love with research anymore! (laughs) I did qualitative interviewing because I wanted to do qualitative research again; it's that human aspect of it that I love. Being able to do that, to present my research, stands out to me about my experience, along with all the friends that I made along the way.
CSU: What is your favorite CSU memory?
VRSJ: When I was a freshman, my friends lived across the street from campus in an "interesting" apartment. (laughs) We would go there in between classes, eat lunch, run around downtown. Just opening up to a wider world. That first year of college before everything hit the fan with the pandemic, we felt like the world was our oyster! (laughs)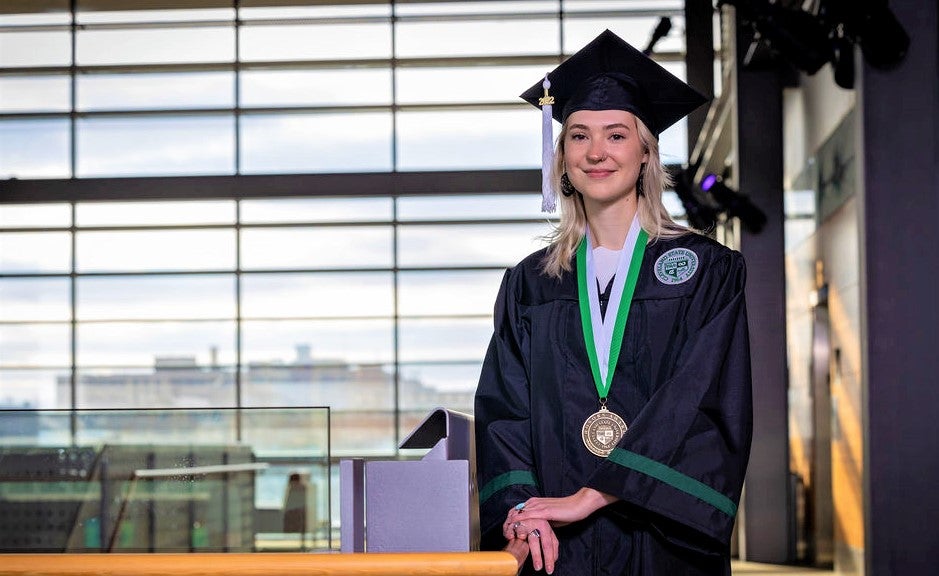 CSU: What's next for you in life and how has your experience at CSU prepared you for it?
VRSJ: My plans after graduation were set earlier this year when I joined the Peace Corps. It was a pretty nerve-wracking process, but my acceptance came pretty quickly. I will be a Youth Health Educator in Belize, working in rural schools, teaching the National Life skills curriculum and I'm very excited. I love working with kids and knew I wanted like something a little more "out of the box." I'm a very outside-of-the-box person—perhaps more than my family would like sometimes (laughs)—but I had been thinking about the Peace Corps for a while and everything just sort of aligned.
My sociology degree, taking classes in global health and child development—all of it factored into my decision. And then for my Sociology Capstone, I did a project with Dr. Robert Kleidman who is phenomenal and with his steer, I was able to interview Peace Corps volunteers across generations. Their experiences were all quite different, but the common theme was, "This was the best thing I ever did with my life." "It changed my life." "It was the hardest thing I've ever done, but also the most rewarding thing I've ever done." And I like to challenge myself, so that diverse generational feedback clinched it.
I was due to start this coming summer, but my start date was pushed back. So, I'll be actively looking for a Montessori environment to work in over the summer until it's time to head to Belize.
CSU: What advice would you give to the next class, or a freshman in your major? Any parting words?
VRSJ: It relates to your last question. Be afraid and do it anyway. That's kind of been my life motto the past couple years, especially here at CSU, because college is scary when you're 18-years-old. You get thrown into this new environment and you don't really know yourself, or exactly what you want, even if you think you do. The only way to figure that out is to push yourself, have new experiences, connect with people, throw ideas at the wall. You know? See what sticks.
Some of the stuff you throw at the wall is gonna be wickedly uncomfortable for you to do, but do it anyway. The biggest growth happens… when you do something you didn't think you could do. I mean, even today I was nervous about getting my picture taken, doing this interview. And I have a speech to give at Commencement on Sunday, which immediately made me think, "Nope! Nope! Nope! Not doing that!" (laughs).
But get outside of your comfort zone enough and soon enough you have a life repertoire—"Oh, I did this hard thing, and that hard thing," and so on and suddenly, you say, "Wow, look at how much I've grown." You're coming out of an enclosed high school environment and emerging into a wider world—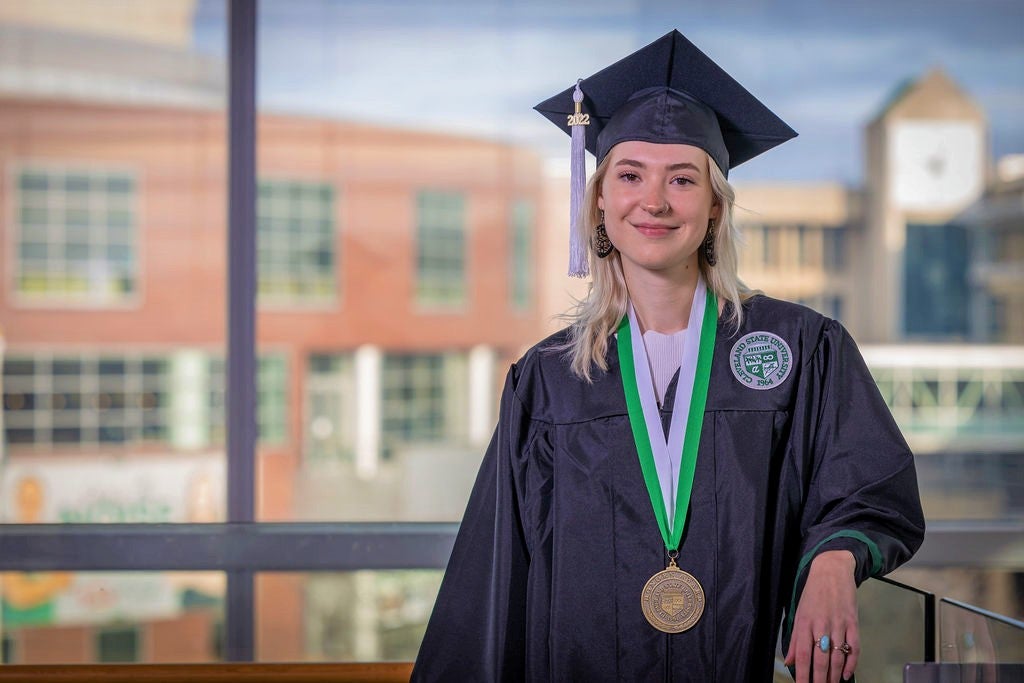 CSU: Out of an aquarium and into Lake Erie—
VRSJ: That's a great analogy. Yes! All the opportunities that I had through CSU and all the really prepared me for the rest of my life. If I had any other advice for incoming students, I'd say talk to your professors. Build relationships there. Connect. This is another invaluable part of the college experience. Make those connections, not because you "need help" on a project or must "pass" an assignment. Get to know them. Because they're more than willing to engage that way. As a student, you might think, "Oh, they don't wanna talk to me!" but it's exactly the opposite. I've had nothing but good experiences with the faculty here and I mean really, I'm truly grateful for them.
I would also say, challenge yourself. Take the harder class. It's all about learning. If you know what works best for you, pursue that—but challenge that notion sometimes. I have never once regretted pushing myself to do something that was difficult. Not once.