Posted on September 22, 2021 at 2:38 PM, updated September 23, 2021 at 10:57 AM Print
The program is the first in the state to offer the degree, two state licenses and an endorsement
CSU's Department of Teacher Education, in collaboration with the Cleveland Metropolitan School District (CSMD) has added a new master's degree and licensure program: Project DREAM (Dual Resident Education Program).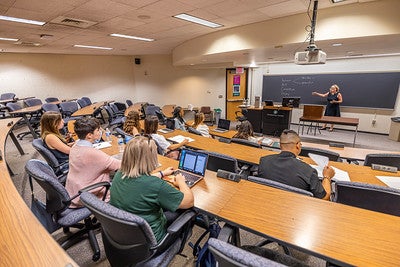 Funded by a $225,000 grant from Ohio's Deans Compact on Exceptional Children, Project DREAM is unique in that it is the only Master of Education program in Ohio to include two state licenses – primary and special education – and a TESOL (Teaching English to Speakers of Other Languages) endorsement. The program began this fall semester for paraprofessionals who have already earned their bachelor's degrees and work for CMSD, with a special focus on primary grade students and students challenged by language barriers and learning disabilities.
The program was developed by Tachelle Banks, Ph.D., CSU associate vice provost for Academic Innovation & Initiatives and associate dean for Faculty & External Affairs; and Elena Andrei, Ed.D., CSU associate professor and TESOL program coordinator. The goal of the program is to help candidates who have knowledge, skills and experience with primary students, special education students and second language learning programs attain an advanced degree in their area of work.
"This inclusive educator preparation program highlights the importance of K-12 and higher education partnerships. CMSD and CSU's College of Education and Human Services have embarked upon a co-developed, multiple credential educator preparation program," said Dr. Banks. "This collaborative partnership is nationally supported and recognized by the American Association of Colleges for Teacher Education and its Special Education Network Improvement Community."
"There are not a lot of programs nationwide that train teachers in both special education and TESOL, and it is very exciting to have this type of program starting at CSU," said Dr. Andrei. 
Several learning goals and experiences incorporated in the program will promote successful candidate learning outcomes with the purpose of closing the achievement and opportunity gaps for K-12 students in urban schools. 

Courses are offered in a hybrid capacity, both online and in-person at the International Newcomers Academy, a CMSD secondary school.