Posted on December 12, 2016 at 3:41 PM, updated December 12, 2016 at 3:41 PM Print
CSU Professor is inducted into International Adult Continuing Education Hall of Fame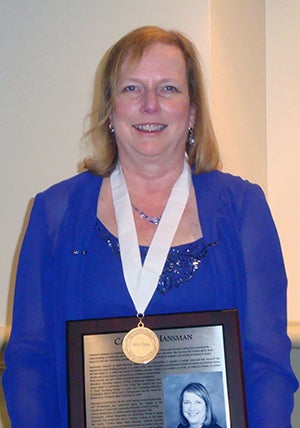 Catherine Hansman, a professor of education at Cleveland State University, is a nationally recognized expert and researcher in the field of adult learning and was one of the first to highlight the vital link between mentoring and educational development among adult learners. She has also been a leader in developing standards and policies related to adult education, including serving as president of the American Association of Adult and Continuing Education. These and many other accomplishments have been recognized with her recent induction into the International Adult Continuing Education Hall of Fame.
The Hall of Fame honors leaders in the fields of continuing education and adult learning, while highlighting the continued development and importance of these areas to educational practice. Hansman was part of the 2016 class of inductees that were honored at the Online Consortium Conference, sponsored by AAACE in November.
"I have long had a passion for adult learning which was sparked by my own experience as a non-traditional student," Hansman says. "I am deeply grateful that my efforts to enhance the field have made a difference and would like to thank the Hall of Fame for this incredible honor."
Hansman was working as a music teacher when she decided to go back to school to get her bachelor's degree and teacher certification, working part and full time while completing the program. Later, as a computer analyst and trainer at Wright Patterson Air Force Base, she worked regularly with adult learners and developed an interest in how she could improve techniques for effectively teaching these individuals.  Subsequently, she taught university developmental writing classes to mostly adult learners while advocating for and working with returning adult students as director of a center for women and returning adults.
"My own background as an adult learner made me very empathetic to the people I worked with at Wright Patterson and at the university, and I really became interested in how adult learning differed from more traditional education methods as well as how to make it better," Hansman adds. "I went back to school, ultimately completed my doctorate in adult and community education and decided to make this my life's work."
Hansman has taught at CSU for 19 years and is currently director of the Master's of Education in Health Professions Education program. She previously served as program coordinator of the Master's of Education in Adult Learning and Development program and as interim chair of the Department of Counseling, Administration, Supervision and Adult Learning. Hansman is also the author or editor of three books, including Educational Leadership and Organizational Management: Linking Theories to Practice, released in fall 2016. As a researcher she is best known for her work linking mentoring, learning and development and contextual issues, and her monograph, Critical Perspectives on Mentoring: Trends & Issues, is considered required reading in the field.