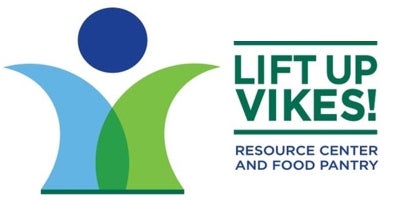 Mission Statement:
Lift Up Vikes! will offer a convenient, dignified and compassionate process through which CSU students are connected to resources that supplement nutrition and other basic human needs as they strive to earn a college degree.
LUV! Staff
Pantry Assistants
Grace Iseler
Megan Michalak
Kevin Schutte

LUV! Student Manager 
Alexia Miracle
LUV! Coordinator:
Megan Ashwill
Assistant VP of Campus Engagement & Dean of Students
Ali Martin Scoufield

You can reach LUV! by emailing liftupvikes@csuohio.edu 
Follow us on Instagram at: @csu_luvikes 
NEW:
LUV! Student Profile, Alexia Miracle
LUV! in the news

New expansions in SNAP eligibility for college and university students
Fall 2022 LUV! Pantry Information
We are a proud Partner Agency of the Greater Cleveland Food Bank. Learn more about Partner Agencies here.