resource Guide
The Gender Unicorn | Terminology | LGBTQ+ Symbols | Coming Out | Trans 101: Primer | Homophobia & Biphobia | Heterosexism & Privilege | Allyship | CSU Campus Resources | Community Resources | Websites | Download PDF Version
Lesbian, Gay, Bisexual, Transgender, and Queer/Questioning Student Services are committed to enhancing the overall educational experience of the CSU community. We provide resources, support and educational programming that promotes the academic and personal growth and development of gay, lesbian, bisexual, transgender, queer, and questioning students and their allies, work to assure unrestricted
DEFINING A COMMON LANGUAGE
SEX AND GENDER
genitals, hormones, chromosomes, or any combination thereof. At birth, attending physicians may choose to perform reassignment 
surgery on individuals with ambiguous genitalia, thus assigning a gender identity. Many who identify as intersex believe that early childhood surgical intervention is not only unnecessary but cruel, and advocate counseling and support for children and families.
their gender, or whose gender expression does not fit neatly into a category.
ORIENTATION & EXPRESSION 
ALLYSHIP AND ISMS 
relationships.


LGBTQ+ Symbols


RAINBOW FLAG
Use of the rainbow flag by the gay community began in 1978, when it first appeared in the San Francisco Gay and Lesbian Freedom Day Parade. Borrowing symbolism from the hippie movement and black civil rights groups, San Francisco artist Gilbert Baker designed the rainbow flag in response to a need for a symbol that could be used year after year. Originally the flag had 8 stripes, and each had a specific meaning; hot pink (sex), red (life), orange (healing), yellow (sunlight), green (nature),turquoise (magic/art), indigo (serenity), and violet (spirit). Rainbows have since become a symbol representing pride for the LGBTQ+ community even though a few stripes have been removed- pink was removed due to fabric unavailability, and indigo and turquoise were combined into royal blue.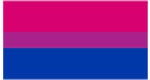 BISEXUAL FLAG
A person who comes out to you may be wrestling with guilt, feelings of anxiety or depression, or discomfort. They may have spent many hours in thoughtful preparation prior to coming out to you, and may have rehearsed. They may feel vulnerable, frustrated, relieved, unsure, proud, or any combination of these feelings when preparing to come out to you.
Coming out can be a difficult process for some, and they may benefit from knowing there are additional supports available to them. Remember, your role is to support the person coming out to you within the context of your relationship. It may be helpful for you to connect this person to a licensed mental health professional, peers in the LGBTQ+ community, or an identified ally for additional support and encouragement. It may also be helpful to have other resources at your fingertips, such as a book addressed to parents, a contact for the local or national Parents and Friends of Lesbian and Gays (PFLAG), or the name of a counselor who can help.
A PRIMER
A person who is "transgender" is someone whose gender identity differs from conventional expectations of masculinity and femininity.
Many transgender individuals identify themselves as heterosexual. Their intrinsic difference is their gender identity, not their sexual identity: these are two different concepts altogether. However, transgender people can be perceived as lesbian or gay, and thus are discriminated against in similar ways.
Transgender people may face employment and housing discrimination, usually to a greater degree than gay men, lesbians, and bisexual people. They may also be denied public accommodations and access to health care, and may be potential targets for hate crimes: verbal harassment, threatening telephone calls and emails, and acts of violence committed by the same people who hate lesbians, gay men, and bisexuals. Transgender people are much more likely to fall victim to discrimination and hate crimes than LGB individuals, especially those who are readily identifiable as transgender.
Transphobia is the fear of people who are transgender and the hatred, discrimination, intolerance, and prejudice that this fear brings. Transphobia is manifested as harassment, threatened safety, disgust, ridicule, restrictions on freedom of movement, restrictions on access to resources (housing, employment, services etc.), and violence to name a few.
HOMOPHOBIA AND BIPHOBIA take many different forms. Sometimes they take the form of physical acts of hate, violence, verbal assault, vandalism or blatant discrimination, such as firing an employee, evicting someone from their housing or denying them access to public accommodations. There are many other kinds of homophobia and biphobia that happen every day. Some of the more subtle actions and exclusions are harder to recognize, but can have an equally harmful effect.
Looking at a lesbian or gay man and automatically thinking of her/his sexuality rather than seeing her/him as a whole,complex person.

People cannot be boiled down to their sexual orientation alone. While sexual orientation may be a very important part of some individuals' identities, this is only one part of the whole.
 

Thinking you can "spot one."

Relying on stereotypes to identify a person's sexual orientation can be very hurtful. The only way to know someone's sexual orientation is if they tell you.
 

Using the term "lesbian" or "gay" as accusatory, or as an insult.

Using these words as insults implies that there is something negative about holding a lesbian or gay identity.
 

Expressing disgust at public displays of affection between LGBTQ+ couples, but accepting the same displays of affection between heterosexual couples.

While it may be new to you to see displays of affection between LGBTQ+ couples, remember that all couples have a desire to express love and affection for one another.
 

Being afraid to ask questions about lesbian or gay issues when you don't know the answers.

Sometimes, we really mess up- that's okay. Asking questions is the only way we learn. (Also, the internet is a really great tool to help you find answers!)
Believing that bisexuality doesn't exist, or stating that it's a phase - people are only gay or straight.

This statement denies the fluidity of sexuality and dismisses people's experiences and definitions of self. People deserve the right to define their identities any way they wish. 
 

Believing, on the other hand, that everyone is really bisexual.

People may say this as a way to acknowledge the fluidity of sexuality. However, it dismisses people who identify as bisexual, as well as their experiences.
 

Believing that bisexual people are greedy, or just want to have sex with everyone.

This stereotypes bisexual people and assumes they are all promiscuous. It creates negative attitudes towards sex and works against creating a sex positive climate. It also comes from the notion that bisexuality is not a legitimate identity, but is only about behavior.
---


Heterosexism & Privilege
Stop Heterosexist Behavior

Notice and stop heterosexist language in yourself and others.
Establish guidelines and professional expectations. Enforce them gently but firmly.
 

Educate Yourself

Read about LGBTQ+ issues. 
Talk about the issue with others. 
Attend LGBTQ+ events. 
Join organizations (NGLTF, HRC, NASW gay caucus, etc.). 
 

Support Change in Others

Acknowledge when someone is non-heterosexist. 
Rename heterosexist acts and comments as unfair or unacceptable. 
 

Initiate and Prevent

Develop an office policy statement against heterosexism. 
Analyze training materials for heterosexist bias. 
Write to lawmakers to support LGBTQ+ rights legislation and oppose anti-LGBTQ+ legislation 
 

Model Non-Heterosexist Behaviors

Don't joke or tease someone for nontraditional gender behaviors. 
Avoid "heterosexual credentializing" - making a point of your heterosexuality. 
Don't assume that anyone/everyone is /are heterosexual.

Use terms like "partner" and "friend," not "boyfriend" or "wife," etc.

Use neutral examples for pronouns.
AN ALLY...
…has worked to develop an understanding of LGBTQ+ identities and issues, and the needs and the strengths of LGBTQ+ individuals and communities.
---



CSU Campus Resources
QSA (QUEER STUDENT ALLIANCE)
Location: Main Classroom 215D (Located on the 2nd floor on the northwest side of MC)
Service Days and Hours: Monday through Thursday, 12:00-8:00pm
Appointments can be made through Starfish or by contacting our staff:
Phone: 216-687-9325
COUNSELING CENTER
The Counseling Center, located on the second floor of the Union Building (1836 Euclid Avenue), Room 220, offers a variety of services, including one-on-one counseling and discussion groups to students, faculty and staff, all free of charge. Psychiatric Services are available at a minimal charge. All of the Counseling Center staff are LGBTQ+-friendly. All communications between students and Counseling Center personnel are completely confidential. 
LGBTQIA STUDENT SUPPORT HOUR
This group is a discussion group that is open to all CSU students. For further information, contact Dr. Bruce Menapace at the
TRANS STUDENT SUPPORT
CARE MANAGER
Community Resources
THE LESBIAN GAY BISEXUAL TRANSGENDER COMMUNITY CENTER OF GREATER CLEVELAND
Located at 6600 Detroit Avenue, the Center is a resource for obtaining information, referrals, peer support, leadership, and advocacy for the LGBTQ+ community. The Center's mission is to work to improve the quality of life for people in the many communities they represent through self-empowerment, visibility, justice, and equality. Center staff are also striving to raise the awareness/consciousness of the rest of society surrounding LGBTQ+ issues.