The Office of Facilities Management (FM) provides exceptional customer service by providing comprehensive maintenance for CSU's 49 campus buildings and over 21 acres of landscaping.  We are dedicated to supporting CSU's goals by maintaining and enhancing the infrastructure, buildings, and grounds of the campus.  We strive to surpass expectations with our small but dedicated team.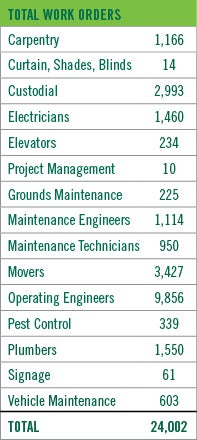 Our team prides ourselves on beating the customer to the punch and finding issues before they do.  The effort is paying off as we have created 87% of all work orders while customer-initiated work orders amounted to 13%.  The mail team has delivered more than 325,000 pieces of mail.  Some of the work done by the FM team is never seen such as maintenance on the campuses' electrical gear, pumps, chillers, tanks, air handling units, vehicles, underground piping, irrigation lines, and so much more. 
Aside from routine maintenance, the FM team has performed several projects on campus and played an integral part in major renovations and new facilities.  Construction projects like Washkewicz Hall, Science Building lab renovations, and Berkman Hall renovations highlight the engagement of the FM team with contractors that construct these new spaces.  The FM team also provides project oversight on infrastructure improvements such as the campus-wide sidewalk repairs and the Rhodes Tower Elevator upgrades.