MOVING SERVICES
For all of your campus moves (file cabinets, desks, office relocation etc), our team will handle it in an efficient and effective way.  We schedule each move with our customer in mind.  The moving team handles the following moving steams on campus:
Office/department relocation
Delivering equipment to and from property control
Drop off & pickups of confidential and non-confidential shredding bins
RECYCLING
CSU's recycling team processes almost 200 tons of recycling materials a year. 
CSU has had a recycling program in place for twenty years! Our goal is to continuously increase the rate of recycling on campus and over the next academic year, we aim to decrease the amount of material sent to landfill by five percent. This would save money, reduce emissions from transport, and decrease landfill space demand!
What Can I Recycle?
Standard recycling bins for plastic and cans are gray with green lids. You can put any recyclable plastic bottle, jug, tub or container in this bin along with any metal cans. Always replace the cap - it's too small to be recycled by itself!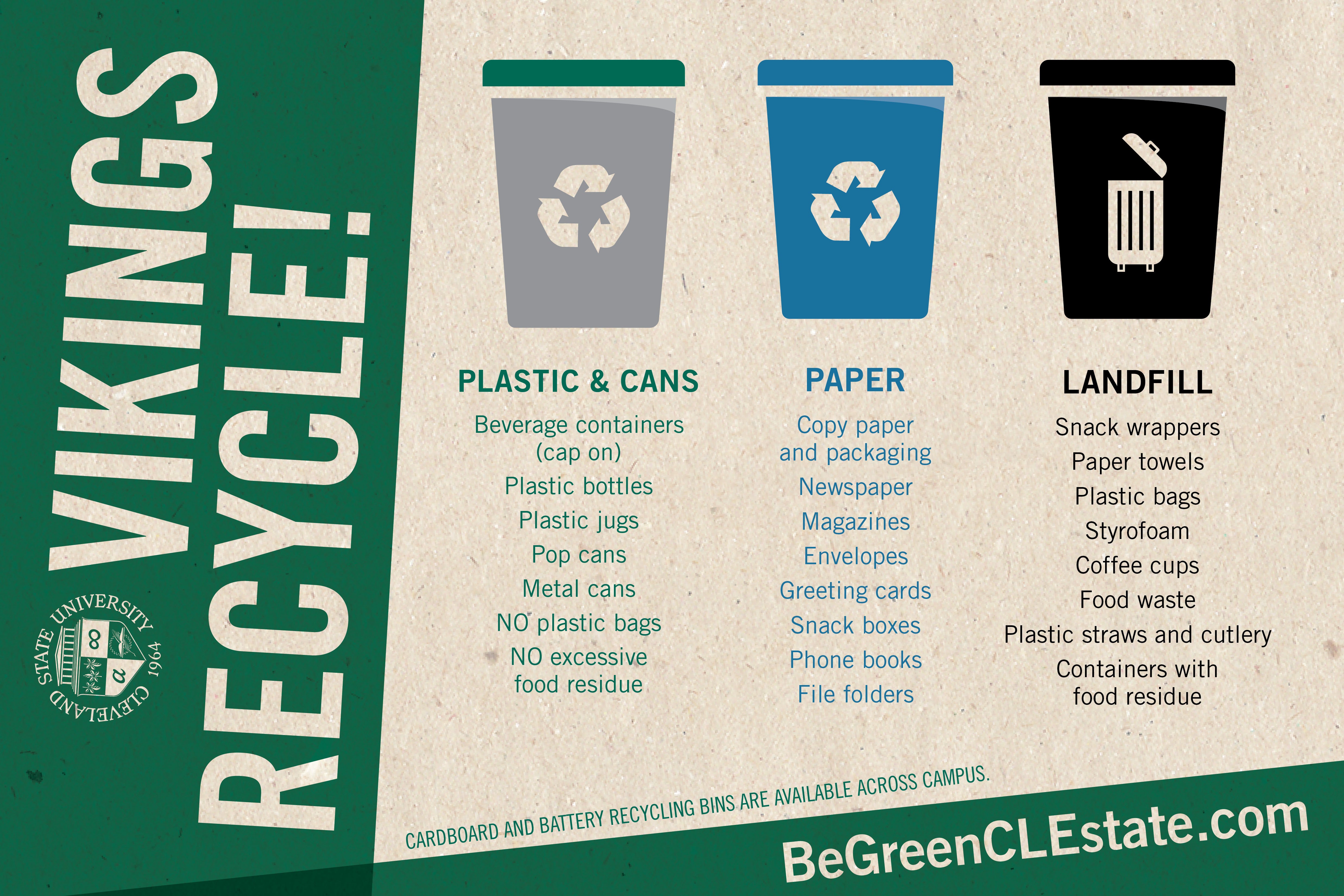 Want a magnet of Vikings Recycle click here and we'll send one via campus mail.
Recycling bins for paper are entirely blue. Clean mixed papers can be put in these bins, including copy paper and its packaging, newspapers, magazines, envelopes, junk mail, greeting cards, paperboard boxes (cereal, crackers, etc.) and phone books.
Other waste streams collected on campus include Styrofoam, shrink wrap, steel, tires, yard waste, computers and electronics, ink cartridges, lead-acid batteries, motor oil, fluorescent bulbs and office furniture.
What Doesn't Belong in the Recycling Bins?
Recycling correctly is important because if overly contaminated, the end result is a lower quality product. If recycling service providers can't sell their product to manufacturers, then recycling won't be a competitive industry.
These things should NEVER be put in the recycling bin:
Plastic bags or plastic film (return these to several retail locations)
Anything with excessive food or sauces stuck to it
Coffee cups (most cups have a plastic lining and cannot be recycled)
Styrofoam
for more information on recycling initiatives at CSU click here.