LOWER DIVISION PROGRAM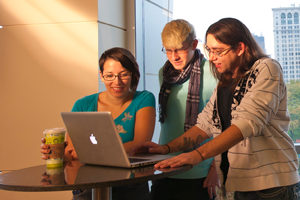 Choose Ohio First: Life Sciences Pipeline (COF-Life) is a state-funded scholarship and academic program for undergraduate students in STEMM majors. The goal of the program is to recruit and retain more Ohio students into the STEMM fields with a focus on life sciences.  
Eligible majors include Biology, Chemistry, Environmental Science, Health Science, Pharmaceutical Science and Speech & Hearing. Students planning a career as a high school science teacher are also eligible as they will major in one of the science disciplines.
Scholarship awards range from $1,500 to $7,500 per student, per academic year, toward the cost of tuition.  The actual amount awarded is based on financial need. Scholarships are renewable to cover all four years of an undergraduate degree, contingent on continued eligibility and state funding.
In addition to financial awards, students in the program participate in weekly cohort meetings on a variety of topics, including speakers from healthcare, industry, and academia.  There are also social activities to strengthen the cohort connection.
Students work in groups each year to complete a research poster and develop technical communication skills by presenting it at the annual CSU Research Day poster conference. 
Students also receive academic advising and support through the University Scholars program.
Poster Archive
Click here to see our poster archive.
Who Can Apply?
To be considered you must:
Be an entering freshman student or a transfer student who will first enroll Fall 2019

Be an Ohio resident
Have an undergraduate degree plan for a STEMM major (Biology, Chemistry, Environmental Science, Health Science, Pharmaceutical Science or Speech & Hearing)
Have a high school grade point average of 3.25 or higher, or ACT score of 27 or higher, or SAT score of 1300 or higher
Have a commitment to COF-Life program requirements
Not already be receiving a full scholarship
Have a current FAFSA on file with Financial Aid (www.fafsa.ed.gov)
*Please note that programs designated as "Upper Level" are only open to incoming transfer students or current Choose Ohio First Scholars already participating in another program
*The Choose Ohio First program is only for students pursuing a first time undergraduate degree. Post-baccalaureate students are ineligible for this program.
What are the Program Requirements?
Be a full-time undergraduate student in a STEMM major (Typically 15 credit hours per semester)
Attend at least 5 cohort meetings per semester 
Complete a group research poster each spring and present it at our annual Research Day Poster Conference
Meet with assigned advisor at least once a semester
Maintain a cumulative GPA of 3.25 or higher
Make progress toward a STEMM degree 
H

ave a 4-year graduation plan approved by your major advisor (Exceptions may be made for dual majors, students participating in a co-op, etc.)



 
How Do I Apply?
The application for students planning to enroll at CSU in Fall 2020 will open on November 1st, 2019. 
For More Information Contact:
Dr. Anne Su, Director of COF-Life
216.687.3546
a.su@csuohio.edu