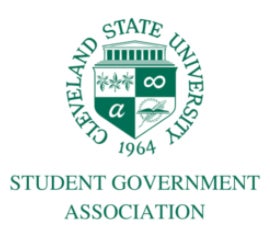 SGA shall serve as the student body liaison with University administration to ensure that the welfare and educational interests of students are incorporated into the goals and policies of Cleveland State University.
SGA shall recognize active CSU Student Organizations for their respective talents and/or missions by encouraging inclusion, collaboration, and unity among said campus constituents.
SGA shall allocate funds to student organizations in order to promote programs and activities that contribute appreciably to the cultural, educational, and social purpose of Cleveland State University.
The governance of Cleveland State University is vested in the Board of Trustees of the University under the provisions/laws of the State of Ohio. Any SGA responsibility related to the governing of CSU can be enacted when requested or supported by the President of the University (or designee) acting under the authority of the Board of Trustees. All such action is subject to review in consultation with SGA.
It shall be stated as part of the policy of this organization that there shall be no form or type of discrimination in any project, program, or activity because of race, color, religion, national origin, sex, age, sexual orientation, handicap or disability, disabled veteran, Vietnam-era veteran, or other protected veteran status.
Download 2023-24 SGA Funding Guide
Executive Board
Kayland Morris - President SGAPresident@csuohio.edu
Alysha Syed - Vice President  SGAVicePresident@csuohio.edu
Aleena Babar - Treasurer  sgatreasurer@csuohio.edu
Esther Adejumo - Secretary SGASecretary@csuohio.edu
Kimberly Springer - Advisor  k.s.springer@csuohio.edu