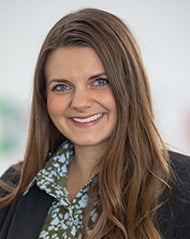 Kayla Braunschweiger
Admissions Counselor
k.braunschweiger@csuohio.edu
216.523.7401
Cleveland State University is a vibrant campus that offers endless opportunities to become engaged on campus and within the community. The campus being located in the heart of downtown Cleveland ensures that you will never be bored and provides you with many new experiences. This mid-size urban campus is the perfect place to have a well-rounded college experience. 
I focus on students from high schools in Central Ohio, as well as northeastern and southern Cuyahoga County.
What's your favorite spot on the CSU campus and why? 
My favorite spot on campus is the Student Center. The Student Center provides space for students to get involved in student organizations, eat, study and relax. The building is filled with student life and CSU pride.
If you had your own Magnus outfit, where would you wear it? 
I would wear it to campus the first week of school to welcome all of the incoming and returning students.
What advice do you have for students who are choosing a college? 
My advice is that coming to campus for a tour is the best way to know if you could see yourself attending a college. I would suggest going on as many campus visits as you can. When you are on campus, you will be able to tell if the college is the right fit for you.
What's your favorite CSU tradition? 
So far, orientation has been my favorite campus tradition. I love seeing how excited incoming students are to attend CSU, and to be a part of some of their first memories on campus.
What's your favorite CSU fun fact? 
CSU has over 200 student organizations. Getting involved in campus life will not only provide you with real-world experience, but help you meet new people and engage in the entire college experience. There is something at CSU for everyone.