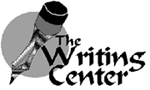 <!-- Morbi turpis mi, tempor nec, euismod vel, mollis faucibus, enim.-->
Copyediting or proofreading is part of a larger process called revision, a process that is worth thinking about. Copyediting deals with surface changes; that is with changes that don't alter the meaning of a text. Since there are so many things a writer can do to a text and, often, so little time, it makes sense to make those changes that will make the meaning of your writing more clear to a reader before focusing on surface changes. Still, a paper must be proofread before it is handed in to an academic audience. In college, great ideas only get a writer so far. What follows is a process that many writers use to make certain that their writing is ready for a critical audience.
Finish a draft or at least part of a draft before you consider revising at any level--otherwise you may never get anything finished.

Of course, you will always start with the most serious meaning-blocking issues and work down:
Revision Issues

Eventually, you will work your way down to the level of sentences and format, the level at which you will "copyedit." When you focus on sentences and format, there are several things you will need to consider:
Copyediting Issues

style

grammar

punctuation

word choice

Make a list of the issues that you usually struggle with and decide what issue(s) you will focus on first (if you have no idea what to start with, talk to another writer, a Writing Center tutor, or your instructor).
Maintaining your focus, go through your paper a sentence at a time and locate and solve problems--use a handbook to find solutions; don't just make them up.
Repeat step 4 as often as necessary.
---
To get back to the bottom, you go back to the top of the slide . . .


Look at it again


Back to the process


Want to talk to a tutor about it?
Questions, comments, and other sundry things may be sent to CSUwriting@csuohio.edu