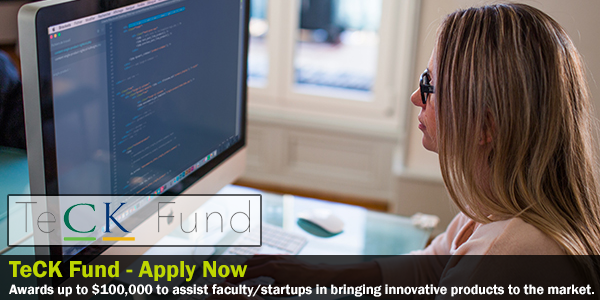 In early April 2017, the Ohio Third Frontier Commission awarded Cleveland State University and Kent State University a grant to create a hybrid technology commercialization accelerator program, to be called the TeCK Fund. This fund will assist university faculty and startup companies in bringing innovative new products to the market.
The TeCK Fund will constitute a pool of funds dedicated to creating a formalized, shared-resources framework to accelerate commercial development of technologies originating within each institution. Awards may range from $10,000 to $100,000, and must be used to validate university owned technology, build prototypes and analyze commercial market potential, all with an eye towards creating jobs and opportunities in Ohio. Applications are accepted on a rolling basis, but TeCK Fund awards must be made by May 30, 2018.
The TeCK Fund will be jointly administered by Cleveland State University and Kent State University. Applications will be reviewed in a two stage process:
Step 1: Download the 2-page, fillable letter of intent application.  After completion, please submit by email to the Screening Committee at j.kraszewski@csuohio.edu. Upon approval by the Screening Committee, applicants will be invited to submit a full 6 page proposal. Applicants who are rejected by the Screening Committee are invited to make revisions as recommended by the Screening Committee and reapply.
Step 2: Formal applications will be reviewed by a seven member Selection Committee. Thorough due diligence will be conducted by the Selection Committee. This Committee is expected to meet quarterly, and great care should be used for the application. The due diligence process will also require applicants to have conducted a minimum of 20 customer interviews and provide those findings to the Screening Committee.  Applicants who have completed an I-Corps @ Ohio cohort will be given priority consideration.
Successful applicants will specifically be required to:
Provide compelling business models for near-term market opportunities based on technology and tech-enabled products and services in the following areas of preference: Software/Information Technology, Biomedical/Life Sciences, Advanced Materials, Sensors, Energy, and Advanced Manufacturing.
    
Generate the proof needed to move technology to the point that it is either ready to be licensed by an Ohio start-up company or otherwise deemed unfeasible for commercialization. TeCK Fund applicants are encouraged to work with Ohio companies to identify the proof needed through customer validation during the due diligence process.
    
Perform validation activities such as prototyping, demonstration and assessment of critical failure points in subsequent development, scale-up and commercialization in order to generate this proof, with strong preference for these validation activities being performed by an independent source.