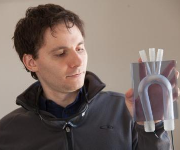 The Technology Transfer Office (TTO) was established to facilitate the commercialization of the University's scientific and technical research findings for the benefit of the citizens of Ohio and the general public through the efficient evaluation, management, and licensing of the University's intellectual property including patents, copyrights and trademarks.


January 2021
  Update: Patent Allowance
The United States Patent and Trademark Office has allowed a patent for U.S. Patent Application Serial No. 15/485,962 titled ACTUATING DEVICE FOR POWERED ORTHOSIS that names Dr. Jerzy Sawicki, the Bently and Muszynska Endowed Chair and Professor in the Department of Mechanical Engineering (MCE), and Curt Laubscher, Ryan Farris and Steven Etheridge from Parker Hannifin Corporation. The invention is a result of an ongoing collaboration between CSU and Parker Hannifin. The technology provides the motor and internal actuating device that will power an orthosis or external body suit for disabled users. In particular, the invention provides the powering mechanism for a pediatric exoskeleton that allows disabled children to move again.
Contact Jack Kraszewski for assistance with a disclosure to begin the process of protecting your invention or intellectual property.
  TeCK Fund Phase 3 Now Accepting Letters of Intent
The TeCK Fund, a joint technology commercialization and startup fund co-managed by Cleveland State University and Kent State University, is now accepting Letters of Intent for the opportunity to submit a full proposal. A successful full proposal will require the approval of the Selection Committee at which the PI will have to present. The TeCK Fund provides faculty pursuing applied research projects with funding to assist with commercialization activities, including prototype creation, third-party validation, and market research, which are required to successfully spin off technologies. Applicants who have participated in the I-Corps @ Ohio program will be given priority.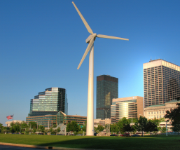 Research developed at Cleveland State University often has applications as products or services outside the boundaries of the University. Through its efforts, the TTO endeavors to inspire and nurture a culture of innovation at CSU with the ultimate goal of creating new technologies that improve society, lead to more job creation, and more revenue for the inventors, the University and the State of Ohio.
Please contact us with any questions or inquries you may have.