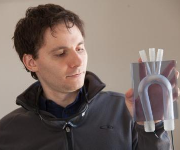 The Technology Transfer Office (TTO) was established to facilitate the commercialization of the University's scientific and technical research findings for the benefit of the citizens of Ohio and the general public through the efficient evaluation, management, and licensing of the University's intellectual property including patents, copyrights and trademarks.


June 2019
 Invention Disclosure Pipeline
The Technology Transfer Office has received a joint invention disclosure from Dr. Chris Wirth, an assistant professor in the Department of Chemical and Biomedical Engineering (CBE), Emily Pentzer, an assistant professor of Chemistry at CWRU, and Qinmo Lu, a CWRU Ph.D. student. The invention is titled Process for Sizing Two Dimensional (2D) Nanomaterials. 2D nanomaterials are highly attractive in the fabrication of next-generation wearable, highly flexible, and transparent electronic and optoelectronic devices. A significant problem with 2D nanomaterials is measuring each unique material's size in order to determine how best it can be applied. The inventors have created a 2D nanomaterial sizing method using optical microscopy. This invention disclosure is a direct result of an opportunity provided by the IoT Collaborative.
Contact Jack Kraszewski for assistance with a disclosure to begin the process of protecting your invention or intellectual property.
 Moo-Yeal Lee Receives Phase 2 Commercialization Award
BioPrinting Labs, Inc., a CSU start-up company created by CSU faculty researcher Dr. Moo-Yeal Lee, has been awarded CSU's first Ohio Department Services Agency (ODSA) Technology Validation and Start-up Fund Phase 2 grant in the amount of $150,000. Dr. Lee, an associate professor in the Department of Chemical and Biomedical Engineering (CBE), previously was awarded a TeCK Fund Phase 1 award in March, 2018.
The Phase 2 award will further Dr. Lee's efforts to achieve market entry of the 384PillarPlate in 2020. BioPrinting Labs will use the ODSA award to functionalize and sterilize the surface of the 384PillarPlate and to scale up manufacturing. In addition, funds will be used to purchase key equipment for cell/tissue quality control. The TeCK Fund is a joint technology commercialization and startup fund co-managed by Cleveland State University and Kent State University.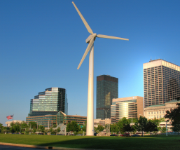 Research developed at Cleveland State University often has applications as products or services outside the boundaries of the University. Through its efforts, the TTO endeavors to inspire and nurture a culture of innovation at CSU with the ultimate goal of creating new technologies that improve society, lead to more job creation, and more revenue for the inventors, the University and the State of Ohio.
Please contact us with any questions or inquries you may have.