MY MAJORS- StuDENT
WELCOME TO MY MAJORS AT CLEVELAND STATE UNIVERSITY
Choosing a college major is exciting, but can also be a difficult decision to make. At CSU we encourage you to explore and match your major options based on your interests, personality, as well as academic aptitude and achievement.
MyMajors is a great and quick-to-use tool that organizes all your relevant information into your personalized top ten major recommendations. Just answer the questions as they are true to you.
You may be surprised of the majors you've never even heard of that are offered here at Cleveland State University!
 
HOW TO ACCESS IT?
My Majors can be used by a Prospective or Current student at Cleveland State University. 

Go to csuohio.mymajors.com
Current students will use your CSUID and Password to login, while Prospective students will need to complete a registration process.
Once you sign in, you will go through a 15 minute assessment and then you will receive two items (1) A Top-Ten List of Majors, (2) An Advisement Report. The list of majors will give you an idea of the top ten majors you may be interested in based on your responses in the assessment. The advisement report is a PDF version of your results and has a great deal of information that can help you with your major, academic success and career plan toward completing your degree.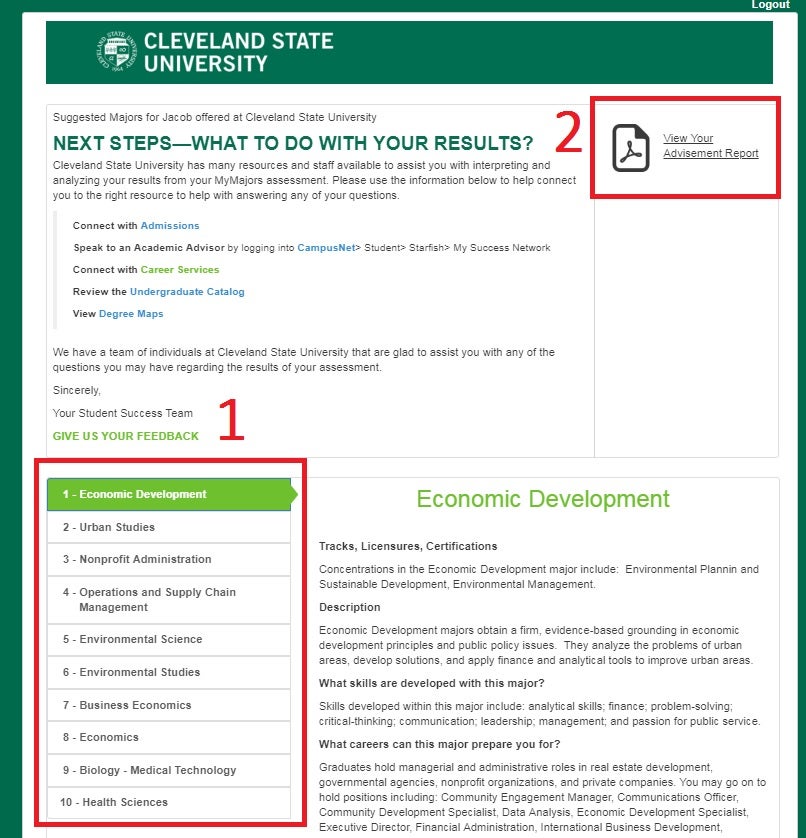 FOR SUPPORT AND ASSISTANCE