Dr. Deirdre M. Mageean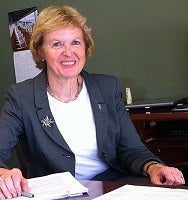 Deirdre M. Mageean is the Provost and Senior Vice President for Academic Affairs, Chief Academic Officer and Chief Operating Officer at Cleveland State University, a position she assumed in July, 2013.  Dr. Mageean oversees nine university academic units and provides leadership in coordinating university operations in both the academic and nonacademic sectors.  She is responsible for a broad portfolio of responsibilities that include the University Library, Office of Research, Division of Student Life, the Honors College and Graduate School.
During the academic year 2012-13, Mageean was Dean in Residence at the Council of Graduate Schools (CGS) where she researched and wrote on online graduate education and graduate student debt.  From 2005 to 2013, she was vice chancellor for research and graduate studies at East Carolina University, where she was responsible for overseeing all issues related to research, graduate education, engagement, innovation and economic development, research compliance, sponsored programs, grants and contracts and federal relations.  Her own research career resulted in cumulative funding   of $3,072,452.    
Prior to this, she was associate vice president for research and dean of the graduate school at the University of Maine from 2002-05.  From 1989-2002, she was director of the Margaret Chase Smith Center for Public Policy, organized two State of Maine Governor's Economic Development Conferences and taught in the departments of Resource Economics and Policy and Public Administration.  She has served on numerous state boards and commissions, Executive Editor of the Maine Policy Review, the CGS Board of Directors, a member of the Governmental Affairs Committee of CGS, a member of the Executive Committee of APLU CRPGE (Association of Public Land Grant Universities Council on Research Policy and Graduate Education) and on the Cleveland Council on World Affairs Board of Directors.
Dr. Mageean holds a BS Sc in Sociology from Queens University of Belfast, an MA in Sociology, University of York, a PhD in Geography from the Open University, England.