Dr. Deirdre M. Mageean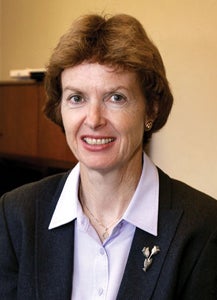 Dr. Deirdre Mageean's appointment as CSU Provost is effective July 1, 2013. Dr. Mageean will be visiting the University during May and June as she prepares to assume her new responsibilities.
For the past seven years, Dr. Mageean served as vice chancellor for research and graduate studies at East Carolina University, the third-largest campus in the University of North Carolina system. In this position, she oversaw all issues related to research, graduate education, academic engagement and economic development. In this position, Dr. Mageean was one of three members of the university's Leadership Council and was involved in all major academic decisions. Several years ago the president of ECU asked her to lead the university's current strategic planning process. Under her leadership, external research funding increased 40 percent.
Prior to her tenure at East Carolina, Dr. Mageean was associate vice president for research and dean of the graduate school at the University of Maine, where she previously was director of the Margaret Chase Smith Center for Public Policy. She also taught in the departments of resource economics and policy and public administration.
A native of Ireland, Dr. Mageean holds a bachelor's degree in sociology and philosophy from Queens University of Belfast; a master's degree in
sociology from the University of York in England and a doctorate in geography from The Open University in England. With funding from the National Science Foundation, the National Oceanic and Atmospheric Administration, the Environmental Protection Agency and the Economic Development Administration, her research has focused on historical patterns of migration, population-environment interactions and the policy
implications of demographic change.