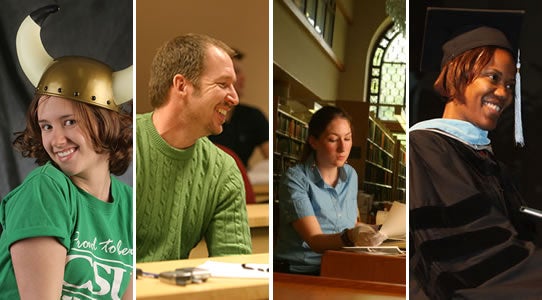 Who We Are...
Financial aid is money that can be used to help bridge the gap between your own resources and the amount of money needed to pay the cost of attending college. Approximately 70 percent of CSU's students receive some form of financial assistance. The University participates in or administers all of the major federal and state grant and loan programs. In addition, CSU provides University grants and scholarships.
FINANCIAL AID UPDATES
Applying for federal Financial Aid can be, at times, challenging. The Federal Government in recent years, in an effort to utilize 21st century technology and reduce the amount of paperwork required, has created an easier and faster way for families to provide tax information when completing the application for financial aid. While this new process has helped, it can still be cumbersome for some families if you fail to answer questions within the financial aid application. This will impact the processing of your financial aid application.
To help you through this process, we want to make sure that you are aware and prepared when filing your Federal Application for Financial Aid (FAFSA). The following steps must be taken when applying for financial aid:
Please file your federal tax returns before you complete the free application for federal student aid (FAFSA). Federal financial aid decisions are based on your federal income tax return(s).
Apply for the federal Personal Identification Number (PIN) at
www.pin.ed.gov
. The PIN (access code unique to you) is used to sign the aid application. You will use this same PIN every year.
Click YES to the IRS Data Retrieval Tool question on the application. This will expedite the processing. Failure to answer this question will cause incredible delays to your financial aid application.
Know our federal school code number, 003032 - keep this number close by while you complete the FAFSA as you will be asked for it in the application.
For a step-by-step guide in applying for financial aid, select Apply for Financial Aid.
Campus411 All-In-1 Enrollment Services is also available to you to help you navigate through this process. Be sure to contact us through several ways: 1) chat with us online, 2) call us at 216-687-5411, and 3) email us at
allin1@csuohio.edu
. 
2013-2014 Free application for Federal Student aid (fafsa) Updates
Visit the Federal Student Aid website and watch videos on learning how to complete your FAFSA
The Help icon is now available on all FAFSA pages.
FAFSA signing option encourages students and parents to use PIN
Improved information on confirmation as to what happens next in the aid application process.
The IRS data retrieval tool has been enhanced and mentions who is not eligible to use the tool.
Tax Returns Are No Longer Acceptable!! Federal regulations have changed and we are no longer able to accept copies of Tax Returns. Need help in completing federal verification, select Apply for Financial Aid for a step by step guide.
Financial Literacy