Dr. Jianping Zhu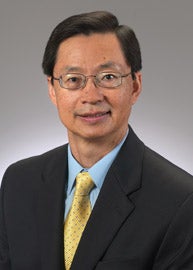 Dr. Jianping Zhu assumed his current role as Provost and Senior Vice President for Academic Affairs in July 2016. He served as the Interim Provost from July 2015 until June 2016, and Senior Vice Provost for Academic Affairs and Dean of College of Graduate Studies from January 2012 – June 2015. Prior to joining Cleveland State University, he was chair of the Department of Mathematics at the University of Texas at Arlington from 2005 – 2011 and chair of Department of Theoretical and Applied Mathematics at the University of Akron from 2001 – 2005. From 1990 to 2001, he was on the faculty of Mississippi State University.
Dr. Zhu was a former president of the Texas Association of Academic Administrators in Mathematical Sciences (TAAAMS). The organization regularly provides colleges, universities, and governing bodies in the State of Texas with advice and recommendations on the development and enhancement of graduate and undergraduate programs in mathematical sciences. He also led the Department of Mathematics at the University of Texas at Arlington to significantly expand its graduate program and increase the number of Ph.D. degrees awarded to underrepresented minorities and US citizens. In recognition of this accomplishment, the Department of Mathematics at the University of Texas at Arlington was selected by the American Mathematical Society as the recipient of the 2013 Award for an Exemplary Program or Achievement in a Mathematics Department.
Dr. Zhu's research interests are in the areas of numerical algorithms, computational simulations, and scientific computing with a broad range of applications. He received the second place award in the 1990 IBM Supercomputing Competition and the Intel Research Fellowship Award in 1992. He has written one book, edited two books, published over 80 refereed papers, and made over 120 conference, colloquium, and seminar presentations in 21 countries. He also served on the editorial boards of six international journals and numerous conference organizing committees. Over the last two decades, his research and education projects have been funded by over $6 million in grants from various federal agencies and industrial partners in the United States.
Dr. Zhu holds a Ph.D. in applied mathematics from the State University of New York at Stony Brook, an M.S. in computational mechanics from Dalian Institute of Technology, China, and a B.S. in solid mechanics from Zhejiang University, China.