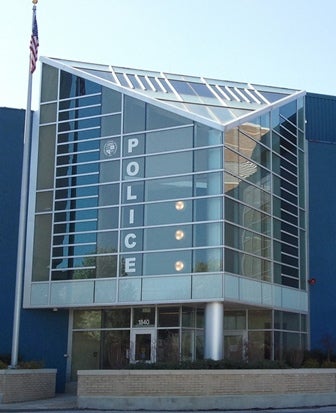 The CSU Police Department is responsible for providing a safe and secure environment for the campus community. Officers patrol over 90 acres of state property in addition to surrounding city streets. On any given day, over 35,000 students, faculty, staff, and visitors may be on campus at one time. The CSU Police Department operates 24 hours a day, 365 days a year.
Police Officers
The Police Chief leads a department of 24 sworn, full-time police officers. In addition, part-time officers are utilized for special event assignments. The Ohio Revised Code (ORC) empowers CSU Police Officers with full police authority on the property of Cleveland State University. This authority is expanded to an area surrounding CSU in accordance with ORC Section 3345.04 and a mutual aid agreement with the City of Cleveland.
Every CSU Police Officer completes the state-mandated police academy training requirements and is certified as a Police Officer by the Ohio Peace Officers Training Council. The Department encourages its members to attain the highest levels of education and training. Most officers have received advanced OPOTA certification in areas such as criminal investigation, line supervision, and crime prevention. Virtually every officer has attended college. Many have completed baccalaureate degrees and several have achieved post graduate degrees. Higher education enables an efficient and professional delivery of services to the CSU community.
Security Officers
Supplementing University Police Officers, CSU Security Officers are stationed strategically around campus to make a highly visible presence and assist students and visitors. Security Officers provide safety escorts to and from vehicles and classroom buildings. They also perform lower-risk security tasks such as securing buildings after hours, patrolling campus parking areas, and other such responsibilities, freeing up Police Officers to handle more serious or threatening aspects of campus safety and security.
Private security companies are periodically under contract to provide supplemental security in campus residence halls. Security officers from these companies are normally utilized on weekends.
Police Dispatchers
The CSU Police Communications Center is staffed with full-time and part-time dispatchers. All dispatchers are certified to operate computers interfaced with the Law Enforcement Data System (LEADS) and the National Crime Information Center (NCIC).
The Police Communications Center receives thousands of alarm notifications via the Simplex Alarm System each year. These include fire, smoke, holdup, intrusion, and panic alarms. Dispatchers notify CSU Officers and other emergency services including Cleveland Fire Department, Emergency Medical Services, and University Facility Operations as appropriate. Dispatchers receive over 50,000 phone calls per year requesting Police services such as facilities access, information, investigation of suspicious activities, and emergency assistance. The Communications Center is linked via computer network to other local, state, and national law enforcement agencies providing a sharing of vital information. The Communications Center provides all necessary communication for Physical Plant personnel during non-business hours.
Support Staff
Civilian support staff includes an Administrative Secretary, a Clerical Specialist, and a Systems Coordinator. The department also employs a team of students, known as Campus Safety Officers, who assist with safety escorts, building security, and other duties.
The efforts of the CSU Police are complemented by the members of the University community. Groups such as Campus Watch and CERT are a valuable asset. The CSU Police encourages all members of the community to take an active role in safety awareness at Cleveland State University.
History of CSUPD
In May, 1970 the Ohio Legislature enacted laws mandating each State University to have it's own State University Law Enforcement Officers. The State Legislature felt a local campus police operation would be better suited to handle campus unrest and crime in general.
In compliance with the new state law, the Cleveland State University Board of Trustees approved the creation of the CSU Police Department in 1970. The original CSU Police Department consisted of 12 certified Peace Officers and approximately 40 institutional Security Officers. The Police Officers patrolled the small Cleveland State University campus in one unmarked police vehicle while the Security Officers drove a three-wheel Cushman scooter. The original campus was a fraction of its present size. Many buildings were temporary and are no longer in existence today.