Posted on April 2, 2019 at 4:51 PM, updated April 2, 2019 at 4:51 PM Print
Chairman and CEO of the Cleveland Indians to speak to graduates May 11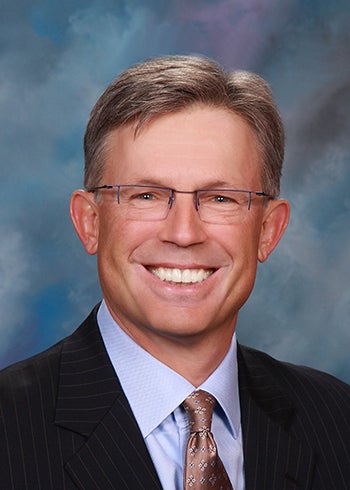 Paul J. Dolan, chairman and CEO of Major League Baseball's Cleveland Indians, will deliver the morning commencement address at Cleveland State University's spring 2019 ceremonies May 11. 
Dolan, an attorney who earned his Juris Doctorate at the University of Notre Dame Law School, was hired by the Cleveland Indians as vice president and general counsel in 2000. Four years later he became team president and since 2011 has served as chairman and CEO. During Dolan's tenure the Indians have won five American League Central Division Championships (2001, 2007, 2016, 2017, 2018) and became American League Champions in 2016. 
"Over the course of his career, Paul Dolan has shown tremendous commitment to Cleveland and Northeast Ohio," says Harlan M. Sands, president of Cleveland State University. "Under his direction, the Cleveland Indians have brought so much joy to our city, and Paul's leadership and service extend well beyond Progressive Field. He has dedicated both his time and treasure to making our region a better place."
Dolan has served on numerous boards in the Greater Cleveland area, including the Greater Cleveland Partnership, the Great Lakes Science Center, the Cleveland Clinic, the Cleveland Foundation, Evergreen Cooperatives, the Playhouse Square Foundation, United Way of Greater Cleveland and Say Yes to Education, as well as the board of advisors for the Boys and Girls Clubs of Cleveland (BGCC). In 2017, he became the first recipient of the Youth Champion of the Year Award, presented by BGCC to those who "inspire and enable young people to reach their full potential as productive, responsible and caring citizens."
"I look forward to addressing the Cleveland State University Class of 2019," Dolan says. "Cleveland is a wonderful place, and I am grateful for the opportunity to share my experiences with future leaders who will shape our city for decades to come."
After graduating from Gilmour Academy in Gates Mills, Ohio, Dolan received his Bachelor of Arts from St. Lawrence University and then earned his law degree at Notre Dame in 1983. After graduating from law school, he joined the law firm Thrasher, Dinsmore and Dolan, eventually becoming partner in 1992.
Cleveland State's 2019 spring commencement ceremonies will be held Saturday, May 11 at the Bert L. & Iris S. Wolstein Center on the CSU campus.