Posted on October 28, 2021 at 5:06 PM, updated October 29, 2021 at 2:52 PM Print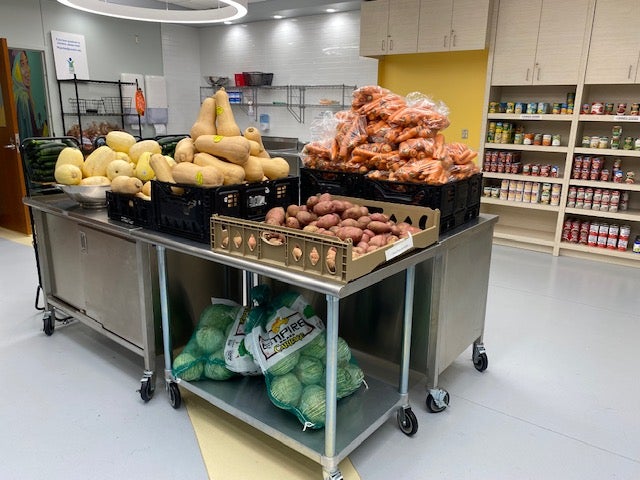 It's no secret that Cleveland State University is dedicated to student engagement and success. But what happens when those students with an appetite to learn are going hungry?
Food insecurity is a very real problem for colleges and universities across the country – one that can send class attendance, grades, health and the dreams of earning a college degree into a tailspin.
Enter the Lift Up Vikes! Resource Center and Food Pantry (LUV!), which began in 2016 as an expansion of the CSU Women's Center food pantry. Now located in Berkman Hall, the artfully-designed center meets the ongoing student need for food and hands-on assistance in a compassionate, dignified way.
Helping make ends meet and keeping students on track to graduate is only part of the equation. Often, the center helps to lift students out of generational poverty and changes the trajectory of their lives.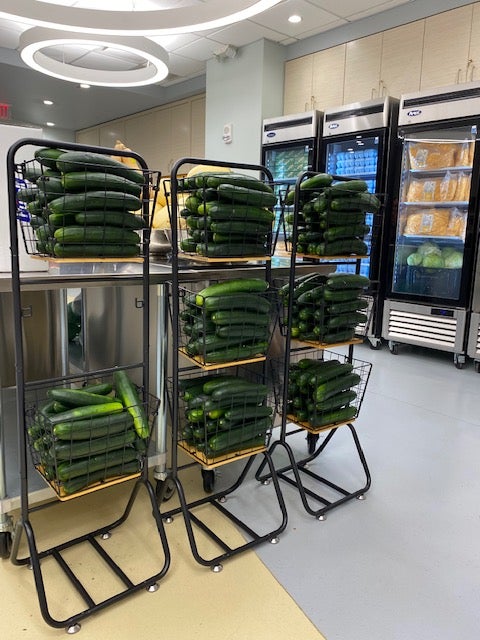 During its first year, the center assisted more than CSU 400 students. LUV! leaders Ali Martin Scoufield, interim dean of students and Alexia Miracle, LUV! student manager, estimate that the center assists over 300 students a week in 2021.
Friendliness and flexibility are a big reason why.
"We are open three weeks a month, and on our busier months we will be just shy of 1,000 students a month," Scoufield said. "We also allow for separate scheduled appointments for students, if the current open pantry dates aren't convenient. That is an option for many as well."
"We are a warm, friendly and accommodating environment that aims to show that we're all on the same team," Miracle said. "You hear many stories from students who are going through a lot, or have been through a lot, and they are grateful for the relief."
"We have had students who have gone through fires, students who are in the midst of leaving abusive homes, students who are parenting and/or caring for younger siblings," Scoufield agreed.
Teamwork Makes the Dream Work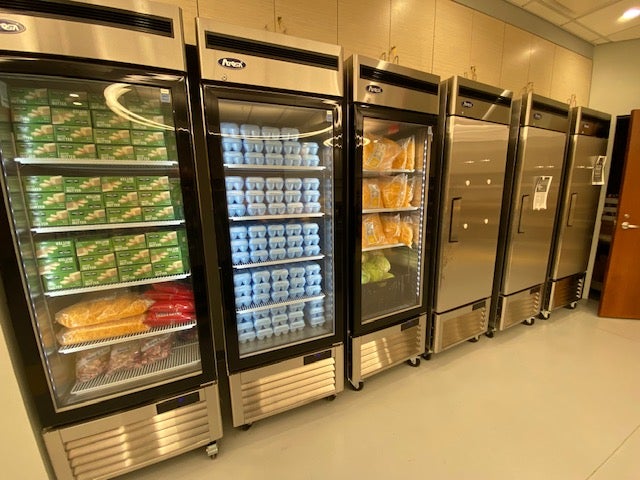 The secret to the LUV! Center's ability to provide lies in partnerships, the biggest one being with their partner agency, the Greater Cleveland Food Bank. Food not provided by donations or from the university comes directly from the food bank, which also supports the center with trainings, site visits and special crossover volunteer opportunities.
While maintaining confidentiality, the center provides those in need with everything one would expect from a trip to the grocery store: fresh produce, meat and dairy, nonperishable food items, personal care and household effects and more. The center also provides workshops on financial coaching, college SNAP eligibility, nutrition, wellness, and even cooking classes using items from the LUV! pantry.
Emergency financial assistance is also offered, via the Fowler Emergency Fund, a private philanthropy fortified by a $1 million gift from Clevelanders Chuck and Char Fowler. The fund provides student grants (not loans) of up to $1,000 for emergencies or unexpected expenses such as medical bills, car repairs, childcare, even rent to help prevent eviction.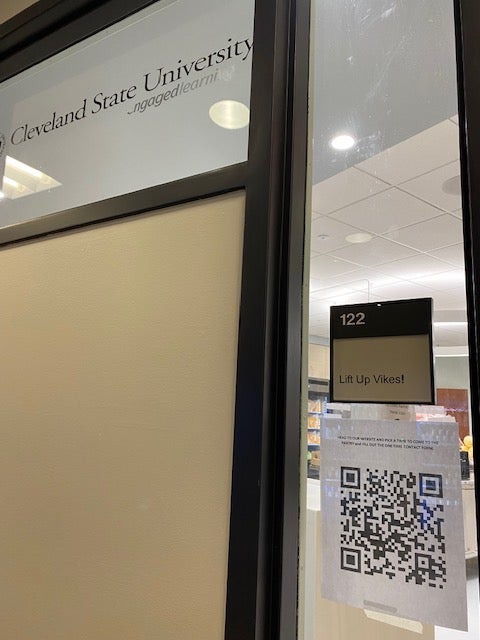 University partnerships are also an important component. Donations from alumni, faculty, staff, students and those who give during Giving Tuesday make a big difference to the center's mission. These campus resources also give everything from food donations and toiletries, household goods and even furniture.
With larger emergency donations, the center arranges for pick-up and delivery.
In keeping with the student-centered focus, a lot of student organizations, athletics, student government, campus organizations, fraternities and sororities and professional staff do their own mini-drives and drop items off at the center.
And the partnership concept even extends to CSU's Facilities, Architect, Safety & Technology unit (FAST), which helps the center with loading in the dozens of pallets of food monthly; recycling packaging and cardboard, and composting any food waste that may come as a result of spoilage.
In all, the center's truth-in-advertising lives up to its namesake – lifting up Vikings who are in need.
How to Get Involved
Outside of Giving Tuesday, donations are accepted throughout the year at the center. Nonperishable food items and toiletries are the most sought-after items. Financial donations are also accepted.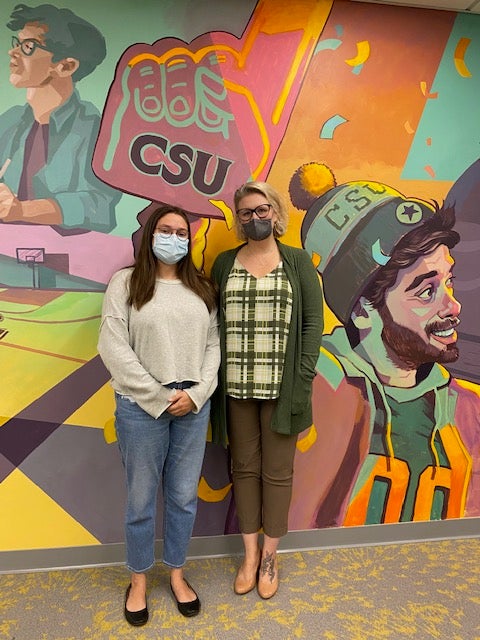 Students with outstanding parking tickets with campus police can also partake of the "Peanut Butter for Parking" forgiveness/amnesty program, where they can pay off their tickets with peanut butter in ounces. That initiative began on Friday, October 22.
There are also upcoming "LUV! Your Community" events, where the center will be collecting hats, gloves, scarves, winter gear and blankets in October and November. In December, they will collect children's books that the CSU police department can hand out to those in need.
Looking to Spring 2022 and beyond, the plan is for a toiletries drive, "because they're the most needed and often the most expensive," said Scoufield. "That need is definitely there. Incredibly important, especially now with Covid."
Students, faculty and staff who wish to get involved can also reach out to the center directly.
"If I could say one thing to students, it would be not to let the stigma stop you from taking care of yourself," Miracle said. "There's so much stigma around coming to a food pantry in general, but don't let that discourage you from engaging a resource beneficial to your nutrition and wellbeing."
"You go to counseling for your mental health, you go to medical and wellness appointments for your physical health, you go to academic support services for advising. You come here for food support. It's a resource provided to CSU students for them to help take care of themselves," added Scoufield.
"There are millions of reasons why there are barriers to basic needs, we just try our best to negate those as best we can. And to think this all started as a shelf in the women's shelter," Scoufield said.