Posted on March 14, 2022 at 11:31 AM, updated March 14, 2022 at 11:48 AM Print
Critical supply drive, humanitarian relief to help the displaced under way
In times of crisis, it's hard not to feel out of control. But when that crisis is a humanitarian one, it is often accompanied by a complete abandonment of normal life in the quest for survival and resettlement.
Right now, millions of families in Ukraine, Afghanistan and elsewhere are fleeing ongoing violence. Many have been displaced from their homes that were destroyed by bombings. And some Afghan refugees who had just settled in Kyiv, Ukraine, now find themselves escaping a second war in the past six months.
Now imagine that you are one of those people—swept away from your family and all you know. Or perhaps it's your whole family and neighbors caught up in the crisis. Daughters, sons, parents… all fleeing, globally altered, with nothing to their name and they don't know the language for where they suddenly find themselves.
What would you do for them? What would you want done for you?
The scope is enormous, overwhelming and impossibly hard to fathom, but it has sent the Cleveland State University community—namely the Center for Refugee and Immigrant Success (CRIS), Tutoring and Academic Success Center (TASC) and the Student Government Association (SGA)—into action. Together, the groups have organized a critical supply drive to help refugees rebuild their lives in safety with dignity.
Now through Friday, April 15 CRIS, TASC and SGA are collecting items to be distributed to families:
Canned goods and nonperishable food items: especially beans, vegetables, soups, chili, peanut butter, coffee and tea;
Backpacks/clothing in child and adult sizes: especially bookbags/backpacks, pillowcases, shorts and pants, shoes, t-shirts, sweatshirts, hats, gloves, business casual attire (all brand new or very gently used);
Toiletries: especially sponges, toilet paper, toothbrushes and toothpaste, deodorant, combs and brushes, soap and towels of all sizes;
Toys for younger children (all brand new or very gently used);
Visa gift cards of varying denominations.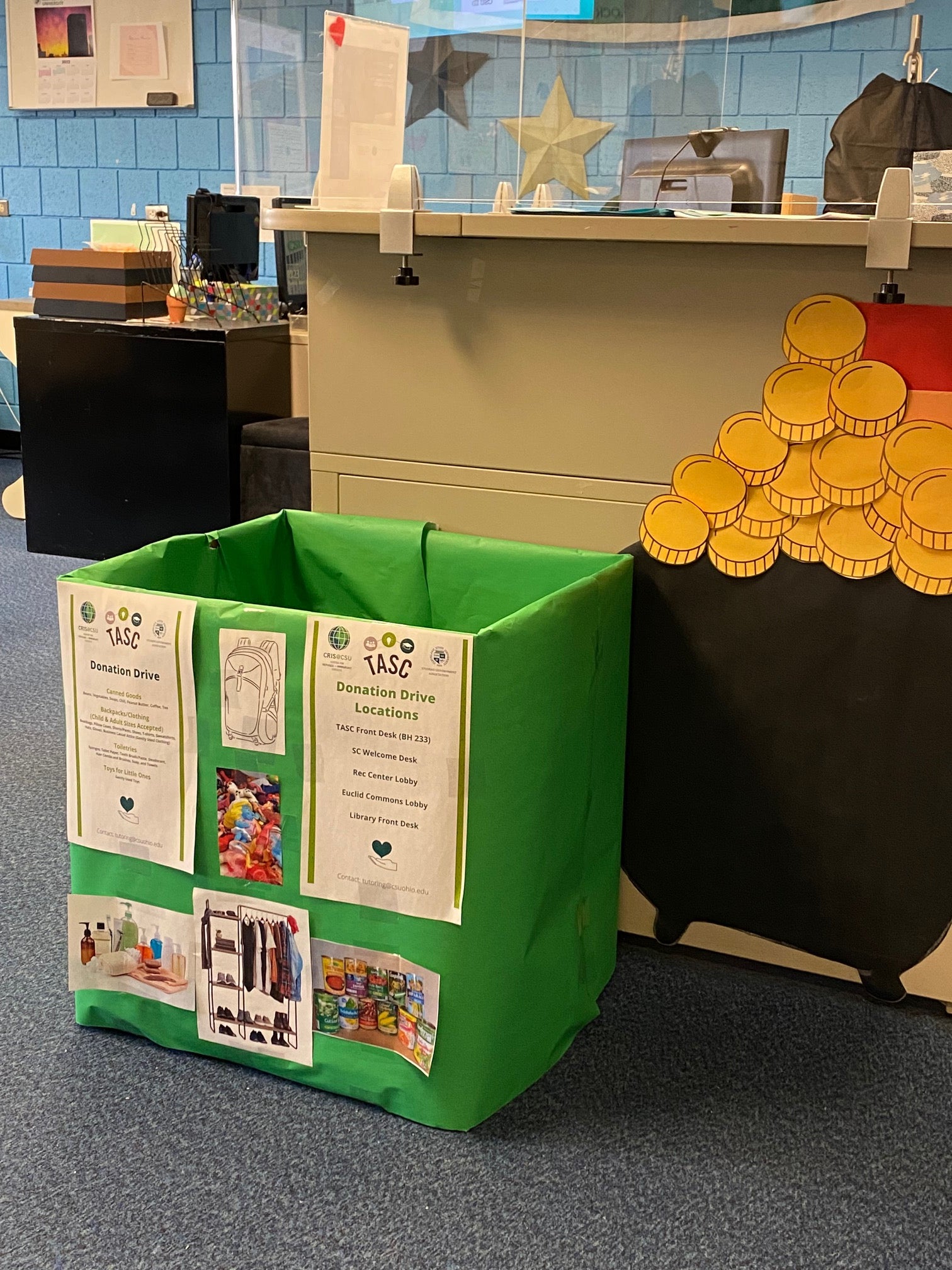 Donation bins are in TASC's Office (Berkman Hall 233); the Michael Schwartz Library entrance; the CSU Rec Center entrance; the Euclid Commons lobby, and the Student Center Atrium facing Euclid Avenue. The organizers ask respectfully that participants only donate items in NEW OR VERY GENTLY USED CONDITION within categories listed.
"Some members of my family are involved with the military and the exit from Afghanistan, and they saw firsthand how devastating it all was," said CSU SGA president Martin Barnard. "People ripped away from their homes, sometimes having to leave packed bags behind, just get on a plane and go. Hopefully we can make these people feel welcome and supported for the things that they need to survive."
Barnard said that the numbers of expected refugees in Cleveland back in the fall of 2021 "were estimated to be 300-500," but said that since the invasion of Ukraine, estimates he has seen put that resettlement figure for the city over 2000 by the end of 2022.  
"We want to make sure that faculty, staff, students and administration are all aware of this effort—but we also want to really expand that awareness to the many community pockets we have surrounding campus and beyond. That will go a long way in helping us achieve our goals," he said.
"This is not just a campaign for the CSU community; we welcome and encourage the rest of the community to join us and participate," said Barnard, adding that "no donation is too small" and that the drive serves as Engaged Learning for everyone involved. 
"Every bit helps."