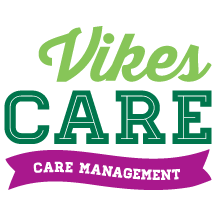 Associate Dean of Students, Community Standards, and Advocacy
Ali Martin Scoufield
a.martinscoufield@csuohio.edu | 216.687.2048
As the Associate Dean, Ali oversees community standards through the student conduct process and supervises the CARE Team. Ali's worked in various roles in higher education including volunteer services, service-learning, residence life, student conduct, Title IX, and equity. Ali received her BA in History with a minor Philosophy from Western New England University in Springfield, MA. She completed her MS in Higher Education from Miami University – Ohio, and her MLS in Human Rights & Social Justice from Southern Methodist University in Dallas, TX. Prior to her arrival at CSU in September 2019, Ali worked at Case Western Reserve University in Cleveland, La Salle University in Philadelphia, and Southern Methodist University in Dallas.
---
Care Manager
Mitch Lieberth, Ph.D.
m.lieberth@csuohio.edu | 216.687.2048
Mitch Lieberth (they/them) has worked in higher education for 20 years in almost every area on campus: college athletics, financial aid, admissions, advising, and is now with the CARE Team at Cleveland State University. They have graduate degrees in Athletic Administration, History, and Adult Learning and Development. In 2020, they earned their PhD with the successful defense of their doctoral dissertation entitled: What's In A Name? The lived experiences of transgender college students using a preferred name policy. This was the first study of its kind to explore the ramifications of a preferred name policy at a single postsecondary institution. In their free time, they love eating sandwiches, exploring Cleveland, and volunteering for social justice organizations in Northeast Ohio.
---
Care Manager
Alex Luisi, M.A.T.M, M.A.
a.luisi@csuohio.edu | 216.687.2048
Alex received her Bachelor's degree from Kalamazoo College. She then worked at Tufts University in Boston before attending Boston College where she completed her Master's in Theology and Ministry and Master's in Mental Health Counseling. During her three years at Boston College, she worked with high financial need undergraduates which is a huge passion of hers. Alex joined the Care Team in September 2019. Alex is passionate about helping to build communities of care, respect and growth which help students succeed. On weekends, Alex loves to explore the outdoors, read all the things, sing, and explore Cleveland.
---
Care Management Intern 
Noah Marsh
careintern@csuohio.edu | 216.687.2048
Noah received his bachelor's degree in social work from Cleveland State University. He is currently working towards earnings his master's degree in clinical social work here at CSU. Noah is passionate about helping his fellow CSU students overcome any barriers that they may encounter. In the past Noah has had experience in co-facilitating mental health symptom management groups.  In his free time Noah likes to explore the Metro Parks and practice his ukulele.