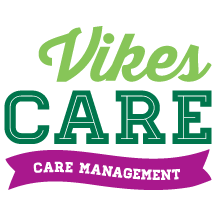 Care Manager
Emily Grady
e.a.grady@csuohio.edu | 216.687.2048
Emily received her undergraduate degree in Women's and Gender Studies from Kenyon College and her Masters degree in Clinical Mental Health Counseling from John Carroll University. Emily is passionate about providing advocacy and support for students, and about making the CSU community a safe space for everyone. Emily is also involved in the development of LGBTQ+ Student Services and programming on CSU's campus. Outside of CSU, Emily enjoys both making and eating baked goods, practicing yoga, and taking walks with her dog, Moose.
Mission Statement: The goal of the Care Manager is to provide holistic support to members of the CSU community, to connect students with resources on and off-campus, and to increase collaboration between campus partners.
What to Expect: The Care Manager provides support and case management services for members of the CSU Community. The Care Manager works with students to develop an action plan to address their individual needs. The Care Manager can help navigate policies and procedures on campus, connect with support systems, and determine what resources might be most helpful.
Meeting with the Care Manager may be useful if:
You want to know more about support services offered at the university.
You would like information on how to connect with medical and mental healthcare providers.
You would to withdraw from your classes for personal or medical reasons, and want more information on your options.
You're feeling stressed about school.
Your life outside of the classroom has become more difficult to manage.
You're feeling overwhelmed and want to find help, but you're not sure where to start.



---

 
Care Management Intern
Stephen Bond – Care Management Intern 
careintern@csuohio.edu
Stephen served four (4) years in the Marine Corps before receiving his undergraduate degree in History and Social Studies from Cleveland State University, where he is currently a second year Master of Social Work student and Graduate Assistant. Stephen is passionate about advocating for students' rights, fostering a safe learning environment, and supporting students' mental health. Outside of CSU, Stephen spends most of his time with his German Shepard, Nanook, and enjoys hiking in the Metroparks and practicing the guitar.