At Cleveland State University, a revitalized sense of place meets a rewarding sense of purpose — with extraordinary results.
Our home is the heart of the city, and the pulse here is stronger than ever. It races with the excitement of a record-setting freshman class and ongoing excellence in academic achievement. It races with a $500-million campus makeover that is sparking a downtown renaissance. It races with the transformative vision of President Ronald M. Berkman, who is determined to establish Cleveland State as a best-in-class urban university for the 21st century.
At the core of everything we do is our philosophy of Engaged Learning. It's more than a marketing promise. It's the mantra that gives purpose to Cleveland State's mission of providing a contemporary and accessible education in the arts, sciences, humanities and professions, and conducting research, scholarship and creative activity across these branches of knowledge. We pride ourselves on the many ways that we engage our students — inside the classroom, throughout the community and around the globe.
"As an urban public university, Cleveland State has a special obligation not only to serve the community in a traditional sense, but also to contribute to the city's redevelopment in ways that many institutions cannot," says Dr. Berkman. "We're bringing a level of engagement to our education that is shaping Cleveland State into one of the best urban universities in the nation."
With an enrollment of more than 17,000 students, eight colleges and more than 200 academic programs, Cleveland State is committed to providing a hands-on learning environment where faculty and students connect and ideas mesh with real-world experience. We strive to serve the public, to support faculty in their teaching endeavors and research and to prepare students to lead productive, responsible and fulfilling lives in the region and around the world.
An unprecedented influx of new students is energizing the University. Fresh ideas are surging as we extend our classrooms into the community. New paths to promising careers are being forged.
Nothing like turning bold vision into successful reality to get the lifeblood of an institution really flowing.
Cleveland State Today: An Evolving Student Body and Expanding Campus
Growing Numbers of Freshmen, Graduates and International Students
Since 2008, CSU has seen a 56 percent increase in the number of enrolled freshman students. In Fall 2014 the university saw an 8.5 percent increase in newly enrolled graduate students, a 15 percent increase in international enrollment and a 10 percent increase in the number of engineering majors.
"Cleveland State is becoming a university of preference," Dr. Berkman says. "In ever-increasing numbers, students are drawn to our fully engaged approach to higher education."
New residence halls were filled to capacity and move-in day has been re-invited as the campus becomes increasingly residential.
As a result of our ongoing effort to raise academic standards and to attract students who are better prepared to succeed in college, the average high-school GPA of incoming freshmen is 3.2 and their ACT test scores surpass the national average. At the same time, the University remains committed to providing access to higher education. Recent freshman classes continue to reflect greater diversity than in previous years.
Graduate students make up more than a third of all students at CSU and the gain in international students, up to 1,300, is led by students from India, China and Saudi Arabia.
Dr. Berkman said the university is performing well amid adverse demographics and heightened competition for students by addressing workforce demands and continuously enhancing the quality of the student experience at CSU. He cited strong demand for health science programs, noting a physician's assistant program that attracted 700 applicants for 34 slots, along with strong enrollment growth at the Washkewicz College of Engineering and the Monte Ahuja College of Business.
"Enrollment is climbing in programs with high employer demand for graduates. We are also keeping more students on the path to completion through our efforts to streamline graduation requirements and eliminate unnecessary student debt," Dr. Berkman says.
A Campus Reborn
As our student body continues to evolve, so does our 85-acre campus. Cleveland State has been reinvigorated with dynamic new buildings, so much so that alumni who graduated a decade or more ago might not recognize the place. The austerity of the past has been replaced by warm and inviting contemporary spaces. A reimagined academic landscape exudes openness.
The centerpiece of this architectural reboot is our new $50 million, three-story Student Center. Designed to foster interaction and to promote community, the distinctive hub of student life at Cleveland State was one of the last masterpieces created by the late Charles Gwathmey, a renowned New York City architect whose other projects included an addition to Manhattan's Guggenheim Museum.
Julka Hall, home of the College of Education and Human Services and the School of Nursing, are just one aspect of CSU's $500 million dollar makeover. Twenty-two story Fenn Tower, restored to its Art Deco splendor, serves as upscale contemporary housing for students.
Julka Hall is another stunner. Named after alumnus Bill Julka, founder of the technology company Smart Solutions, the award-winning new building is home to the College of Education and Human Services as well as the School of Nursing. Julka made a $6 million commitment in 2010 to support scholarships for teaching, nursing, engineering and computer science. The University is one the few in the region to offer a Ph.D. in nursing.
Student housing is booming, too. Cleveland State's Campus Village is the largest residential development in Cleveland in 30 years. The $50 million, nine-building project includes 278 apartments, as well as shops, restaurants and green spaces. It's ideal not only for students, but also for alumni, faculty, staff, young professionals and empty-nesters who want to live downtown. Phase I, with housing for 200 residents, opened in August 2012. Phase II, with housing for another 400 residents, will open in August 2013.
Across campus, the new Euclid Commons residence hall is a hit with Cleveland State's growing population of resident students. The four-building complex houses 600 students in modern suites that feature four single bedrooms, two bathrooms, a kitchen and common space. The renovated Fenn Tower, a 22-story Art Deco landmark, is home to more than 430 students.
The revitalization evident throughout Cleveland State is radiating into other downtown areas.
Campus International School
The Campus International School quickly became a top performer in the region, with a rigorous curriculum and hands-on training for CSU education majors.
Less than a mile east of the University, our Campus International School is thriving. This innovative collaboration between Cleveland State and Cleveland Metropolitan Schools quickly outgrew its original facility and moved into the larger Cole Center this fall. The school provides an educational choice to families, as well as hands-on training for University education majors.
It embraces the academically rigorous International Baccalaureate curriculum, and all students study the Chinese Mandarin language through a partnership with the Confucius Institute at CSU. The Campus International School currently offers grades K-4 and eventually will expand to K-12, adding an additional grade each year. Early test scores indicate that the school is a top performer in the region.
Arts Campus
CSU's new Arts Campus beats in the heart of PlayhouseSquare, the nation's largest theater district west of Broadway.
A few blocks west of Cleveland State, our new Arts Campus in PlayhouseSquare was unveiled in January 2012. This collaboration among Cleveland State, PlayhouseSquare and the Cleveland Play House enables undergraduate students to hone their skills alongside working professionals. The partnership raised $30 million to convert the historic Allen Theatre into three versatile performance spaces for the University's Department of Theatre and Dance and the Play House.
In the midst of the glittering marquees of PlayhouseSquare, two more facilities are making their mark on the burgeoning Arts Campus. The Galleries @ CSU opened in September 2012 in the historic Cowell & Hubbard Building. This stylish exhibition space is the perfect showcase for work by Cleveland State faculty and other artists of national and international reputation, as well as student shows, community-based exhibitions and related educational programs. In the Middough Building, two floors have landed a starring role as the educational and administrative headquarters for the Arts Campus.
The net effect of all this development is a remarkable comeback for the energetic neighborhood surrounding Cleveland State, which has been rechristened the Campus District. A recent editorial in The Plain Dealer, Cleveland's daily newspaper, praised the University's "catalytic work to transform the area around its downtown campus" and declared: "[I]ts willingness to breathe new life into its corner of downtown is also important to Greater Cleveland's future."
Engaged Learning
Cleveland State is creating a sense of place by building an urban university ready to meet the challenges of a new millennium. And we're going about it with a sense of purpose that we call Engaged Learning.
What do you get when you put this concept into practice?
Engaged Learning delivers success stories such as CSUteach, which immerses aspiring teachers in project-based STEM learning and teaching innovations, culminating in yearlong field experience in a local school district. By Spring Commencement 2012, each of the 14 students in the first CSUteach cohort had completed the requirements for secondary mathematics and science teacher licensure. Within a few weeks, all 14 students had secured teaching jobs — a wonderful achievement at a time of educational downsizing and cutbacks.
Engaged Learning delivers outstanding offerings like those at the Monte Ahuja College of Business, named in honor of alumnus and Transtar Industries founder Monte Ahuja, whose $10 million donation to Cleveland State in 2011 was the largest single gift in the University's history. Our business college's export training program has been cited as a model worth replicating by the Obama Administration. The Viking Student Managed Investment Fund is overseen by a select group of accounting and finance majors and MBA students, whose rate of return has outpaced many Wall Street professionals. And the Mobile Accelerated MBA program — the first fully accredited program of its kind — puts a virtual graduate school in palm of your hands, via an Apple iPad loaded with e-textbooks, course modules, apps and other materials custom-made for working professionals.
Engaged Learning delivers a full menu of co-op and internship opportunities at nearly every major corporation and organization in the Cleveland area, including the Cleveland Clinic, University Hospitals, NASA, Sherwin-Williams, Eaton Corporation, Parker Hannifin, KeyBank, Lubrizol and Progressive Insurance. Our goal is to produce exceptionally well-educated graduates with the experience they need to compete in a global economy.
Cleveland State Tomorrow: Forward-Thinking Partnerships and Research
NEOMED Campus at CSU
For another prime example of Cleveland State's forward momentum, look no further than our forward-thinking partnership with Northeast Ohio Medical University (NEOMED). This one-of-a-kind collaboration will address the critical need for primary-care physicians with specific training for underserved urban communities. The process will take students out of the hospital and into city neighborhoods for clinical training, linking families to individual medical students who will follow their patients for an extended period to yield a more specialized approach to care. Together, Cleveland State and NEOMED will provide a more effective workforce for one of the largest metropolitan health-care markets in the United States.
Center for Innovation in Health Professions
Building on the Cleveland State's strength in health-care education, the University soon will break ground for the Center for Innovation in Health Professions, where students will learn and work together in interdisciplinary collaboration. In addition to housing the NEOMED Campus at CSU, the $45-million center will include state-of-the-art training facilities and opportunities for engagement with external partners such as the world-famous Cleveland Clinic, University Hospitals, MetroHealth and St. Vincent Charity Medical Center. Nursing, occupational and physical therapy, music and art therapy, social science research, criminal forensics, cultural anthropology and contemporary alternative medicine also will be taught in the center, which is scheduled to open in 2015.
Cutting-Edge Research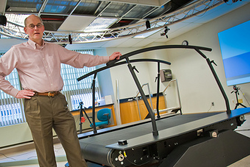 Research at Cleveland State is on the rise. In the University's Center for Gene Regulation in Health and Disease, fully funded researchers are developing groundbreaking new treatments for cardiovascular diseases, strokes, arthritis and cancer. They've attracted more than $10 million from the National Institutes of Health, the National Science Foundation, the American Heart Association, the U.S. Department of Defense and others.
Research at CSU is improving healthcare, harnessing energy, increasing school success, and attracting top faculty to the University's expanding portfolio of groundbreaking research opportunities.
When Cleveland State's scientific and technical breakthroughs have the potential to benefit the world at large, our Technology Transfer Office is ready to facilitate the commercialization of the University's research.
Motion-control technology developed by Cleveland State professor Zhiqiang Gao has been licensed by Texas Instruments, which hailed the innovation as one of the most significant advancements in the field in the past 50 years. Dr. Gao's technology improves performance and efficiency by reducing energy by as much as 50 percent. The technology soon will extend to manufacturers of motor-controlled products ranging from washing machines to medical equipment.
A cutting-edge wind spire designed by Cleveland State professor Majid Rashidi is more than quadrupling the energy output of conventional wind turbines. Utilizing a patented system that consists of four wind turbines mounted to a corkscrew-shaped core, the prototype was erected at Cleveland's Progressive Field in March 2012. During its first three months of operation, the spire generated 4.64 times as much electrical power as four stand-alone turbines. The U.S. Department of Energy awarded a $1.1 million grant to Cleveland State to develop wind-deflecting structures based on Dr. Rashidi's system.
Cleveland State Then: A Brief History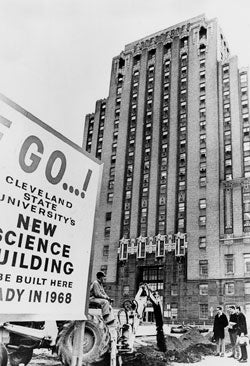 Look back on the history of Cleveland State and you'll find a clear through-line: our connection with the community.
The University's origins can be traced to 1870, when the Cleveland Young Men's Christian Association launched an educational program offering free night classes in German and French. Four day schools opened in the early 1900s, which eventually led to the establishment of the Cleveland School of Technology. The latter institution was reborn as Fenn College in 1930 and adopted a pioneering cooperative education program that alternated classroom studies with practical workplace experience. With Fenn College as its nucleus, Cleveland State was founded in 1964 as a state-assisted university to provide accessible higher education for the citizens of Northeast Ohio.
Today, the University encompasses:
The College of Liberal Arts and Social Sciences
The College of Sciences and Health Professions
The Monte Ahuja College of Business
The College of Education and Human Services
The Fenn College of Engineering
The Cleveland-Marshall College of Law
The Maxine Goodman Levin College of Urban Affairs
The College of Graduate Studies
The School of Nursing
These academic units offer programs leading to Bachelor's, Master's, J.D. and Ph.D. degrees.
Staking a Claim in Cleveland
Cleveland State is building a best-in-class urban university in one of the best cities in the United States. Our hometown sits at the center of the 16th largest metro area and 15th largest consumer market in the nation, with 2.9 million residents in the Greater Cleveland metro area and nearly 500,000 in the City of Cleveland. This is a hotbed for the health-care industry and a cultural oasis where the unparalleled amenities range from professional sports to the internationally acclaimed Cleveland Orchestra to the Rock and Roll Hall of Fame and Museum.
You'll find Cleveland State in the thick of it all. In fact, you can't miss us. On the edge of campus, a new 30-foot-tall Tower of Light lets you know that you've arrived at the University. During commencement, homecoming and other special occasions, a powerful spotlight inside this unique marker sends a beam of light 2,000 feet into the sky.
We're staking our claim. We're proud of our deep roots here. And we're excited about the future as we continue to branch out into our community and beyond.
This is where we belong, pursuing Engaged Learning in the heart of a vibrant cityscape, at the bustling intersection where sense of place meets sense of purpose. If you're ready to engage with an urban university on the rise, you belong at Cleveland State University, too.