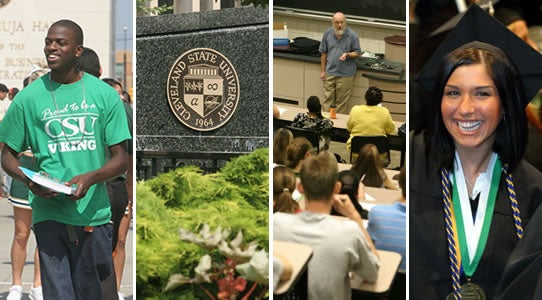 NOW YOU CAN DISCOVER A UNIVERSITY
THAT'S DIFFERENT, THAT'S ALL ABOUT YOU, NOW YOU CAN SHAPE YOUR FUTURE WITH
CSU'S ENGAGED LEARNING, WHICH DIRECTLY CONNECTS YOU WITH YOUR PROFESSORS, 
WITH REAL - WORLD CAREER OPPORTUNITIES, WITH FUTURE EMPLOYERS AND WITH A 
REWARDING LIFE. NOW YOU CAN SEE ONE OF AMERICA'S
BEST COLLEGES (SAYS U.S. NEWS & WORLD REPORT), IN ONE OF AMERICA'S MOST
SURPRISING AND UPBEAT CITIES (SAYS ANYONE WHO KNOWS CLEVELAND). NOW YOU CAN
LIVE AND LEARN IN A DIVERSE COMMUNITY, WHERE 65 OF YOUR PROFESSORS HAVE WON
FULBRIGHT SCHOLAR AWARDS (RIVALING HARVARD AND YALE). NOW IS THE 
TIME TO EXPLORE CSU: WE'RE YOUNG, AGILE, SMART AND ON THE RISE, JUST LIKE YOU.