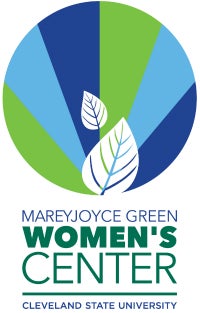 The Mareyjoyce Green Women's Center (MGWC) strives to remove barriers to gender equity and advocate for an inclusive educational and working environment on campus for people of all genders. We focus on helping others realize their full potential through programs that center around personal growth as well as working toward societal change.
We support pay equity, consent, anti-racist action, body positivity, self-care, trans-rights, co-creating safer spaces, and supporting students as they navigate new laws and policies around bodily autonomy and healthcare access.
The Women's Center offers a variety of resources such as multiple lactation spaces, a parent room, menstrual products, study spaces, computer lab, and group meeting area. Through our programs and services, we aim to support women on campus, embrace intersectionality, and promote gender equity and inclusion throughout the Cleveland State University community.
MISSION 
The Mareyjoyce Green Women's Center removes barriers to success through advocacy, education, services, support, and referrals. We celebrate the diversity and intersectionality of womanhood and strive to assist every woman in realizing their full potential. 
VISION

We are committed to the pursuit of gender equity, inclusion, and social responsibility on the Cleveland State University campus and beyond.