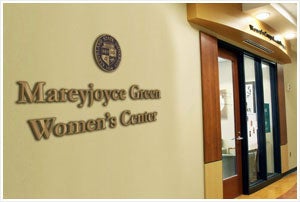 Where is the Mareyjoyce Green Women's Center?
The Center is located in Berkman Hall (BH) 142.
216.687.4674
womenscenter@csuohio.edu
Mareyjoyce Green has fought for the rights of women and the welfare of children for over four decades. She is the founder of the former Women's Comprehensive Program (Women's Center and Women's Studies major and minor) and an associate professor of Sociology and Women's Studies at Cleveland State University. In addition to her role on campus as educator and mentor, Professor Green and colleague Dr. Roberta Steinbacher established the Push to Achievement Program. The program was a collaboration between the CSU Women's Comprehensive Program and the Cuyahoga County Department of Human Services Welfare Division and was the only program in Ohio that enabled students receiving public assistance to earn a four-year degree. Over 130 students received a baccalaureate degree through participation in the program. Furthermore, Professor Green is a founding member of Women's Space and has served on the boards of many local organizations. Mareyjoyce Green was recognized in the U.S. House of Representatives on March 9, 2009 for her many civic accomplishments and honored again later that month when Cleveland State University rechristened the Women's Center as The Mareyjoyce Green Women's Center. Professor Green retired from her position as Director of the Women's Comprehensive Program in 2008.
Do you offer counseling or medical services?
Women's Center staff members are great listeners, but we are not physicians or therapists. Therefore, we leave counseling and medical services up to the professionals. We do, however, provide referral services to on-campus and off-campus resources and will assist you in making an appointment.
Who is the Women's Center for?
The Mareyjoyce Green Women's Center is for anyone dedicated to educating themselves and others about issues surrounding gender equity as well as those who seek to encourage, support and inspire others of all ages and stages in life.
We support pay equity, consent, anti-racist action, body positivity, self-care, trans-rights, co-creating safer spaces, and supporting students as they navigate new laws and policies around bodily autonomy and healthcare access.
What goes on at the Women's Center?
The Women's Center is a place to connect with both on and off campus resources, gather with others to share stories, receive support, meet new people, or simply relax and hangout between classes. The Women's Center offers a variety of resources such as multiple lactation spaces, a parent room, menstrual products, study spaces, computer lab, and group meeting area. Through our programs and services, we aim to support women on campus, embrace intersectionality, and promote gender equity and inclusion throughout the Cleveland State University community.