While students are attending classes via distance, CARE continues to be available to support students, faculty, and staff remotely. CARE is available M-F, 8:00am – 5:00pm and is setting up meetings with individuals over the phone or using zoom. Should you have questions about CARE or wish to refer someone to CARE, please email magnusacts@csuohio.edu or call 216.687.2048. Please do not arrive for any meetings in person as CARE is working off campus.
If you need support for an emergency or need something after business hours, please contact CSU Police at 216.687.2020.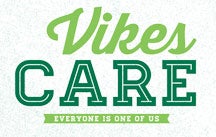 IT'S OK TO ASK FOR HELP.
You don't have to handle it alone!
At CSU, you are NOT alone. You are part of a community and we are here for each other. There are many helpful resources on and off campus with people who understand how you feel. And they can help you get back to really feeling okay again.
HAVE YOU EVER BEEN ASKED "ARE YOU OK?"
AND ANSWERED "YES" EVEN THOUGH YOU WERE NOT?
There is no reason to wait.