Mental Health Awareness Week
March 8 – 12, 2021
​​​​​​​​​​​​​​
#here4youCSU
We are here for each other. Reach out for support.
Encourage a friend.
Projecting Hope: Visual Display on Trinity Cathedral
Monday, March 8, 6:30 – 11:00pm
Drive or walk by Trinity Cathedral to see some light and hope projected onto the Cathedral! Share on social media to spread encouragement for the whole community.
Mini Mental Health Kits, Student Center Atrium
Monday, March 8, 10-3 and 6-8pm; Tuesday, March 9, 10-3
Come by the Student Center to assemble your own Mini Mental Health Kit! Includes resources for mental health, coping strategy ideas, and self-care tools (e.g., breathing techniques, stress ball, mini journal). 
Balanced Vike Challenge
Earn points throughout the week and compete to be the most Balanced Viking! 
Click Here To Register 
You Are Not Alone: Panel and Discussion on LGBTQ+ Mental Health & Community Care 
Tuesday, March 9, 5:00 – 6:30pm
Panel will consist of LGBTQ+ identifying mental health professionals, spiritual leaders, and other members of the community who have firsthand experience with personal mental health challenges, finding a 'chosen family', and learning to adapt in an isolated environment.
Click Here To Register
QPR: Question, Persuade Refer Suicide Prevention Gatekeeper Training (online)
Wednesday, March 10, 3:00 – 4:30pm
Learn how to respond effectively to a mental health crisis and help connect others to professional mental health services. Like CPR but for mental health, this training is for everyone. Attend the entire training to be certified as a Suicide Prevention Gatekeeper for CSU. 
Click Here To Register
Military Mental Health Chat Panel (online)
Thursday, March 11, 5:00pm
Join the Veteran's Student Success Services for an opportunity to discuss military and veteran student experiences coping with mental health and getting support. We will reflect on where we have been, where we can go, and how to ask for the help to get there.  
Click Here To Register
Black Mental Health: Dispelling the Myths (online)
Thursday, March 11
11:00am:  Zoom Meeting ID: 938 2522 7844
7:30pm: Zoom Meeting ID: 973 1203 8686
Come learn some myths and facts about mental health for Black and African American students. Facilitated by Briana Foy and Deborah Fitzpatrick, LISW. 
Join the Zoom Meeting at the time you prefer (Passcode: VIKES)
College Mental Health Tips (online)
Friday, March 12, 12pm-1pm
Join us for a group chat on Mental Health! The discussion will be facilitated by students of the Better You team!
Click Here To Register
Thank you!
We couldn't do it alone! We are grateful for all the partners and students who stepped up to help create the week's events: Trinity Cathedral, Episcopal Diocese of Ohio, NPi a/v, FAST, Safety Ambassadors, Viking Expeditions, General Fee Advisory Committee, Marty Barnard, Briana Foy, LGBTQ+ Support Center, Veteran Student Success Services, Student Affairs, Counseling Center, Health & Wellness.
Mental Health Awareness Week Planning Group:
Andrea Holcomb; Briana Foy; Marty Barnard; Lauren Nehilla; Rev. Adrienne Koch, Trinity Cathedral; Rev. Anna Sutterisch, Episcopal Diocese of Ohio; Kara Tellaisha, LGBTQ+ Support Center; Josh Burns, Veteran Student Success Services; Denise Keary, Health & Wellness; Katharine Oh, Deborah Fitzpatrick, Christina Iapezzuto, Bruce Menapace, and Katharine Bussert, Counseling Center.
---
While students are attending classes via distance, CARE continues to be available to support students, faculty, and staff remotely. CARE is available M-F, 8:00am – 5:00pm and is setting up meetings with individuals over the phone or using zoom. Should you have questions about CARE or wish to refer someone to CARE, please email magnusacts@csuohio.edu or call 216.687.2048. Please do not arrive for any meetings in person as CARE is working off campus.
If you need support for an emergency or need something after business hours, please contact CSU Police at 216.687.2020.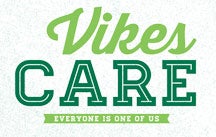 IT'S OK TO ASK FOR HELP.
You don't have to handle it alone!
At CSU, you are NOT alone. You are part of a community and we are here for each other. There are many helpful resources on and off campus with people who understand how you feel. And they can help you get back to really feeling okay again.
HAVE YOU EVER BEEN ASKED "ARE YOU OK?"
AND ANSWERED "YES" EVEN THOUGH YOU WERE NOT?
There is no reason to wait.