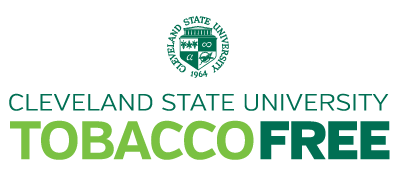 Cleveland State is tobacco free.

Out of respect for others and the environment, Cleveland State University has adopted a tobacco free campus policy that went into effect at the start of the 2013 fall semester.

CSU seeks to foster a respectful, safe and healthy learning and working environment for our faculty, staff, students and visitors.

More and more colleges, universities, communities and employers are prohibiting tobacco use to address the health risks associated with tobacco use and exposure to secondhand smoke. CSU also seeks to demonstrate the model of a tobacco free workplace for students who may be seeking future employment with tobacco free organizations.

CSU's move to a tobacco free campus is an important component of the University's VikeHealth & Well-Being initiatives promoting the health of our faculty, staff and students. As part of the University's commitment to prohibit the use of tobacco on campus, this website provides easy access to many tobacco cessation resources available to staff, faculty and students.

By establishing a tobacco free and smoke free policy, CSU joins more than 1,130 colleges and universities around the U.S. that have adopted such policies.