Posted on April 22, 2022 at 2:35 PM, updated April 22, 2022 at 2:47 PM Print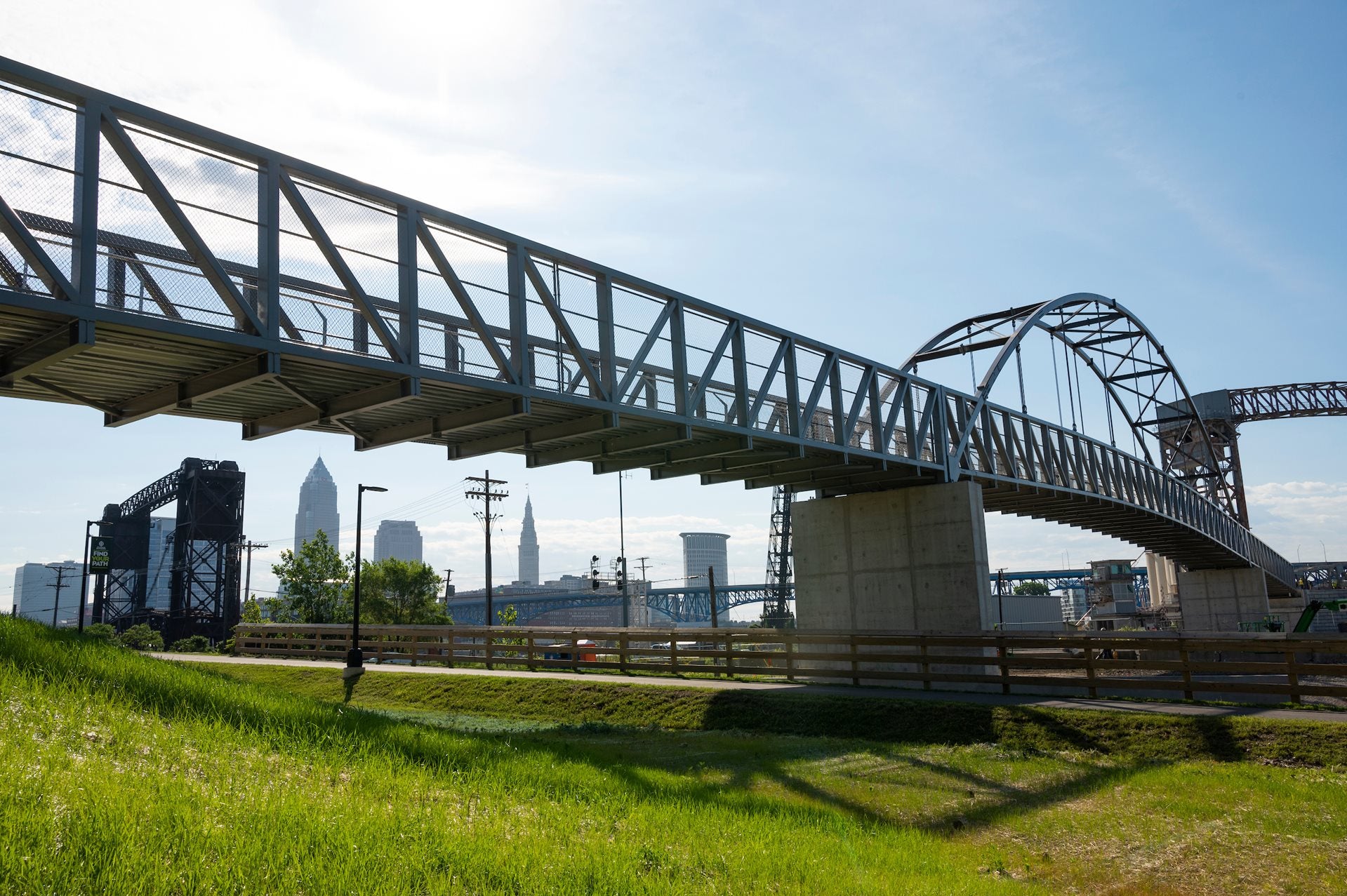 Since we're in that sweet spot between Earth Day and Arbor Day, here's something for Vikings to ponder and remember for the summer ahead:
Wendy's Way, a $6 million cycle/pedestrian bridge, links Cleveland's Centennial Lake Link Trail, Cleveland Lakefront Bikeway, the 101-mile Ohio and Erie Canal Towpath Trail system, Wendy Park on Whiskey Island and the heart of Ohio's north coast. Essentially a huge swath of Northern Ohio is connected for all.
The list of benefits is long: easier public access, more walking, hiking and biking from Point A to Point B, less fossil fuel used. It is definitely a boon for the city of Cleveland on a number of fronts. And believe it or not, it links all those things and more to Cleveland State University as well—in ways beyond getting off the connecting trail at East 9th Street and taking St. Clair Avenue to East 21st Street and into campus.
You see, Wendy's Way is the passion project of businessman/entrepreneur and Cleveland Metroparks Commissioner Dan T. Moore III and his family. Moore is a manufacturing entrepreneur, industrialist and the holder of many patents. More is also a former member of CSU's Board of Trustees, having had a hand in steering the vision to modernize campus during his 12-year tenure from 2008-2020.
Even the Dan T. Moore MakerSpace in the Washkewicz College of Engineering is named after him.
Moore has a rather complex, 30-plus-year history with the bridge and the adjoining land—Wendy Park on Whiskey Island. He was driven to bring this rocky socket of feral lakeside property into the twenty-first century following the tragic death of his 29-year-old daughter, Wendy Moore.
A revered artist, photographer and first daughter of the Moore's, Wendy made Whiskey Island a subject of her work and loved the habitat. She passed from a traumatic brain injury in a 1997 skiing accident, never to see the park again.
Moore came to own the park in a complex chain of real estate events after Wendy's untimely passing. It also led him to establish a nonprofit organization in her name and a protective gear company called Team Wendy, which makes military- and protective services-grade equipment, also in tribute.
Today, Wendy Park is revered by locals and known across the country as a "must-see" location for visitors to the Sixth City. A variety of wildlife, hikers, bikers, boaters, kayakers, anglers, volleyball leagues, bird watchers and train watchers call Wendy Park on Whiskey Island home (or home away from home). 
Wendy Park's green space and the artful, newly christened Wendy's Way stands out among the legacy of warehouses, spires, smokestacks and the Port of Cleveland's bulk terminal that punctuate Cleveland's skyline and history. It's finally arrived at the place where the Moore family always hoped it would.
The bridge to connect all these wonderful things together was always a part of Moore's plan, but it wasn't until the larger $16.45 million "Re-Connecting Cleveland Federal Transportation Investment Generating Economic Recovery (TIGER) Trails" project gained traction considerable traction during the pandemic that the Wendy's Way bridge finally arrived.
Wendy's Way opened last summer and is waiting for all Vikings (young and old) to experience. The city is our campus, after all.